Update: Links added with coverage by local news media: WQAD TV 8 , Dispatch – Argus, Quad City Times – Photos
297 Photos Now Posted from Event (May 23, 2017)
The 9th annual QCESC Cardboard Boat Race was held on Friday, May 12, 2017 at the Bettendorf Middle Park Lagoon. 49 area high school teams with 128 students from Alleman, Bettendorf, Maquoketa, Moline, and Pleasant Valley High School participated. The event was supported by 10 volunteers from Arconic, Exelon, Morrison Institute of Technology, and Iowa State University.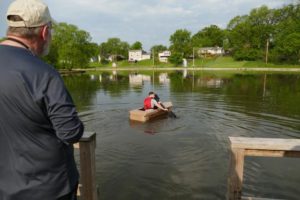 In addition to the students, a separate STEM educators Challenge was held with Bettendorf High School Associate Principal, Kristy Cleppe and STEM Teacher, Dan Drexler participating.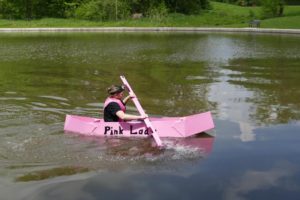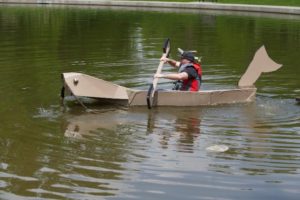 Event Challenge: Teams from area high schools designed and constructed a one or two-person vessel made from cardboard. It had be maneuverable and stay afloat for approximately 600 yards. The boats will be timed from the moment they left the lagoon dock to the time they return, with the fastest time winning the competition.
The following four awards were presented to the top 2017 finishers:
1st Place – Time of 2:29.8
Pleasant Valley High School, Team PVHS 5 with Zach Garner and Seth Hamby


2nd Place – Time of 3:18.8
Bettendorf High School, Team

B-Yacht CH with Ryan Scade and Alex Van Ausdein

3rd Place – Time of 3:38.5
Bettendorf High School, Team Lil' Yachty with Andy Whiteman
Most Innovative Design
Maquoketa High School, Team Rock Bottom with

Tobias Marburger, Rachel Vorbeck, Kyle Davison, and Chloe Swanson

Judges selection comments: "We were impressed with the use of longitudinal strength elements, gussets, and integral hand-holds on the oars. They also integrated the use of pontoons, one of which was damaged during being transportation to the event yet still have a great time of 4:04 finishing in 6th place."
Link to complete team time trial results (Updated: 18May17)
Link to photos from the event (posted May 23, 2017)
Links to local news media articles/coverage:
Special thanks for our 10 volunteers how supporting the event. We would also like to thank the City of Bettendorf for hosting our event for nine years and providing pickup for the cardboard after the event!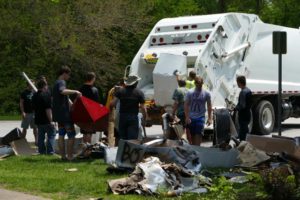 The competition is part of the QC High School Tech Challenge. High school teams and individuals received points from each of the 3 QC Tech Challenge events (Battle of Bridges Contest, Trebuchet Egg Throw Contest, and Cardboard Boat Race. A traveling trophy is provided to the top high school and an award to the top scoring individual along with a scholarship.
Event All Time Course Records:
Student Course Record
2:03 – Brayden Weinschenk & Levi Moser, Pleasant Valley High School – 28May12
Teacher/Adult Course Record
2:24 – Dan Drexler, Bettendorf High School – 20May13
Number of Participtes
57 teams, 139 students from 7 high schools (Alleman, Bettendorf, Durant, Maquoketa, Moline, Pleasant Valley, and Rivermont Collegiate) – 13May16
Link to Cardboard Boat Race Competition Guidelines & Rules
Link to Cardboard Boat Design Steps
For further information or questions, please contact contact Carl Loweth, QCESC STEM Coordinator at carl.loweth@gmail.com or via phone at 563-505-1196.