The 9th Annual High School Cardboard Boat Race Competition
Date:
Friday, May 12, 2017
Schedule:
To be finalized and added after team registration is finalized.
Estimated schedule is 8:00 AM – 2:00 PM
Bettendorf Middle Park Lagoon
2014-2016 Parkway Dr
Bettendorf, Iowa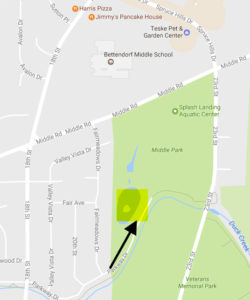 Bad Weather Plan: We plan to hold the event event if it rains unless we encounter extreme conditions such as lighting. If we decide to postpone for the entire day, we will send out an e-mail early on Friday morning and post on this event page. If we need to reschedule, which is very unlikely, we will reschedule to Monday, May 15, 2017.
Last year, we had a record number of teams including: 59 high school teams from 7 area high schools with 144 students along with 5 adult STEM Educators or Engineers in a special challenge.
The competition is part of the QC High School Tech Challenge. High school teams and individuals received points from each of the 3 QC Tech Challenge events (Battle of Bridges Contest, Trebuchet Egg Throw Contest, and Cardboard Boat Race. A traveling trophy is provided to the top high school and an award to the top scoring individual along with a scholarship.
Event Challenge: Teams from area high schools will design and construct a one or two-person vessel made from cardboard. It must be maneuverable and stay afloat for approximately 600 yards. The boats will compete at the Bettendorf Middle Park Lagoon. The boats will be timed from the moment they leave the lagoon dock to the time they return, with the fastest time winning the competition.
Awards:
Top 3 teams based on fast time will receive one picture trophy per team and individual medals for each team member.
Team with most innovative design as judged by the QCESC will receive one trophy.
Teams: Teams will consist of a minimum of one to two students and one adviser. A student is someone who has not yet graduated from high school. An advisor may be a teacher, principal, parent, or guardian or anyone designated by the school that is an adult and willing to take on the challenge and responsibility.
Link to Cardboard Boat Race Competition Guidelines & Rules
Link to Cardboard Boat Design Steps
Links for Teams to Pre-Register or Volunteer:
List of Pre-Registered Team
List of Volunteers Assigned by Role:Volunteer Roles Assigned:

Event All Time Course Records:
Student Course Record
2:03 – Brayden Weinschenk & Levi Moser, Pleasant Valley High School – 28May12
Teacher/Adult Course Record
2:24 – Dan Drexler, Bettendorf High School – 20May13
Number of Participtes
57 teams, 139 students from 7 high schools (Alleman, Bettendorf, Durant, Maquoketa, Moline, Pleasant Valley, and Rivermont Collegiate) – 13May16
For further information or questions, please contact contact Carl Loweth, QCESC STEM Coordinator at carl.loweth@gmail.com or via phone at 563-505-1196.