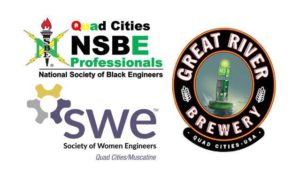 We don't have any pressing business to take care of this Wednesday, so we are cancelling our QCESC Monthly meeting and instead encouraging all who are interested to attend the Society of Women Engineers and QC National Society of Black Engineers tour of
Green River Brewery Wednesday, May 17th at 5:30. Fee is $5 for non-members of SWE.
The QC/Muscatine SWE section and QC NSBE section are teaming up! Come join both of these engineering societies for a tour of Great River Brewery! On the tour we will learn how their brewing process works, see their canning line and get some samples. Afterwards there will be an opportunity for networking over dinner at the Barrel House.
Please RSVP to EnstromKellyL@JohnDeere.com by May 16th if you will be attending the tour, dinner, or both.