56th Annual QCESC Banquet
Thursday, February 22, 2018
5:00-8:45 P.M.
Putnam Museum & Science Center
1717 W 12th St, Davenport, IA 52804
PUBLIC WELCOME
VIEW EVENT FLYER*
$30 for Adults; $20 for Full-Time Student with ID
PRE-REGISTRATION Closing on Wed, 21Feb18
---
Link to sign up for a display during social hour or to donate an item for silent auction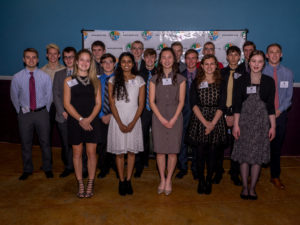 Everyone including students is cordially invited to attend this annual premier event to celebrate, network and showcase the great Science, Technology, Engineering, and Math (STEM) Professionals and Educators in the Quad Cities region. The event is being held during Engineer Week (E-week).
The QCESC is excited to partner with the Putnam Museum & Science Center to provide an interactive and innovative event that includes networking time with STEM displays by students, technical societies and educational institutions along with entry into the Putnam Science Center with 40+ interactive displays.
The program will be in the spacious Putnam Giant Screen theater and will include the awarding $68,000 in scholarships to 17 top-local high school students from 12 area schools who are pursuing post-secondary STEM education and careers. In addition, the Quad Cities STEM Awards for professionals will be announced including the Engineer, Scientist, STEM Teacher and STEM Volunteer, and Society of the Year.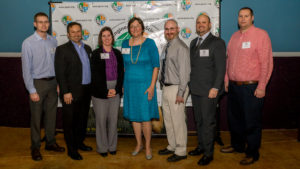 We will be addressed by Dr. Jeff Weld, Executive Director for the Iowa Governor's STEM Council who is currently the Senior Policy Advisor for STEM Education at the Office of Science and Technology at The White House and our KEYNOTE Speaker, Tomas Gonzales-Torres, who is a Former NASA Flight Director and now Lecturer at the Iowa State University Department of Aerospace Engineering and Iowa Space Grant Consortium Assistant Director.
COST:

COST: $30 per person or $20 per full-time students with ID. Includes banquet, access to Putnam Science Center and heavy appetizers with punch, lemonade, and tea. A cash bar will be available.
SCHEDULE:
5:00 PM Social with STEM related displays (see below list), access to the Putnam Museum Science Center, silent auction and networking.
Heavy appetizers with cash bar and concessions also available
6:20 PM Seating in theater

6:30 – Welcome and Introductions – Chris Cournoyer

6:40 – Scholarship Presentations – Tom Hein and Jeffrey Richland

6:55 – Remarks from Former Scholarship Recipient – Austin Laugen

7:00 – Introduction and Presentation by Dr. Jeff Weld

7:15 – 15 Minutes Intermission (Networking, Drinks, Silent Auction)

7:30 – STEM Professional Awards – Dan D'Alessandro and Pat Barnes

7:45 – Keynote Presentation: Tomas Gonzalez-Torres with Q&A

8:30 – Results from Silent Auction and Final Remarks – Chris Cournoyer
Pre-Registration Required by February 20th at www.QCESC.org
---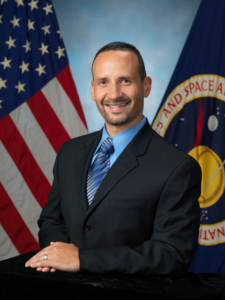 Keynote Speaker:
Tomas Gonzalez-Torres
For five years Tomas Gonzales-Torres held the position of Flight Director for the Mission Control Center at the National Aeronautics and Space Administration (NASA). Being one of less than 90 Flight Directors ever selected since the establishment of NASA in 1958, he had the responsibility & ultimate authority in Mission Control to ensure: the safety of the orbiting astronauts, safety of the International Space Station, and mission success. For this work, he was given the NASA Outstanding Leadership Medal which is the second highest award NASA can bestow upon anyone.
Prior to being selected as a Flight Director Tomas worked in and managed the Extravehicular Activity (EVA) astronaut training department. For many years he was charged with developing lesson plans, teaching and certifying astronauts for spacewalks, and supervising from Mission Control during the mission spacewalks. The astronaut training he performed ranged from spacewalks in support of servicing the Hubble Space Telescope, assembly of the International Space Station, to the Space Shuttle repair after the Columbia accident.
Tomas has a Bachelor of Science in aerospace engineering from Iowa State University where he is currently a Aerospace Engineering Lecturer. He lives in Boone, Iowa with his wife, Heather, and three children.
---
Special Guest:
Dr. Jeffrey Weld, PhD
Jeff Weld, executive director of the Iowa Governor's STEM Advisory Council, has accepted a one-year role with the National Science Foundation and the University of Northern Iowa. In this position, Weld will serve as senior policy advisor and assistant director for STEM Education at the White House Office of Science and Technology Policy and staff associate in the Directorate for Education and Human Resources at the National Science Foundation.
Weld is a prolific author, focusing on surmounting impediments to high quality science teaching. His latest publication, the book, "Creating a STEM Culture for Teaching and Learning", examines all aspects of the nation's STEM (science-technology-engineering-mathematics) movement. He channels the wisdom of professionals in education, business, and government to bring you the theory and policy behind nationally recognized education models for STEM. Whether you're an educator, business professional, or policy maker, you can share Weld's infectious enthusiasm as you extract best practices that will prepare students for the future.
Weld resides in Cedar Falls, Iowa with his wife Mary Kathleen Rovane Weld, and has two grown sons, Andrew (Madison) of St. Paul, Minnesota, and David of Austin, Texas.
---
Following STEM related displays are planned for the social along with nearly 40 items for our silent auction supporting STEM Scholarships.
If you need further assistance, send an e-mail to Qcesc.org@Gmail.com