The purpose of the QCESC awards is to pay tribute and recognize Engineering and Science Professionals whose exceptional achievements and outstanding contributions have made a lasting impact on technology, society, and their profession. This includes helping to promote and raise the awareness of STEM (Engineering, Science, Technology, and Mathematics) education and careers in our local communities including in our schools.
Awards were given out at our 56th Annual Banquet on February 22, 2018 at the Putnam Museum.
The 2018 QCESC Award Recipients are:
---
2018 Award Recipients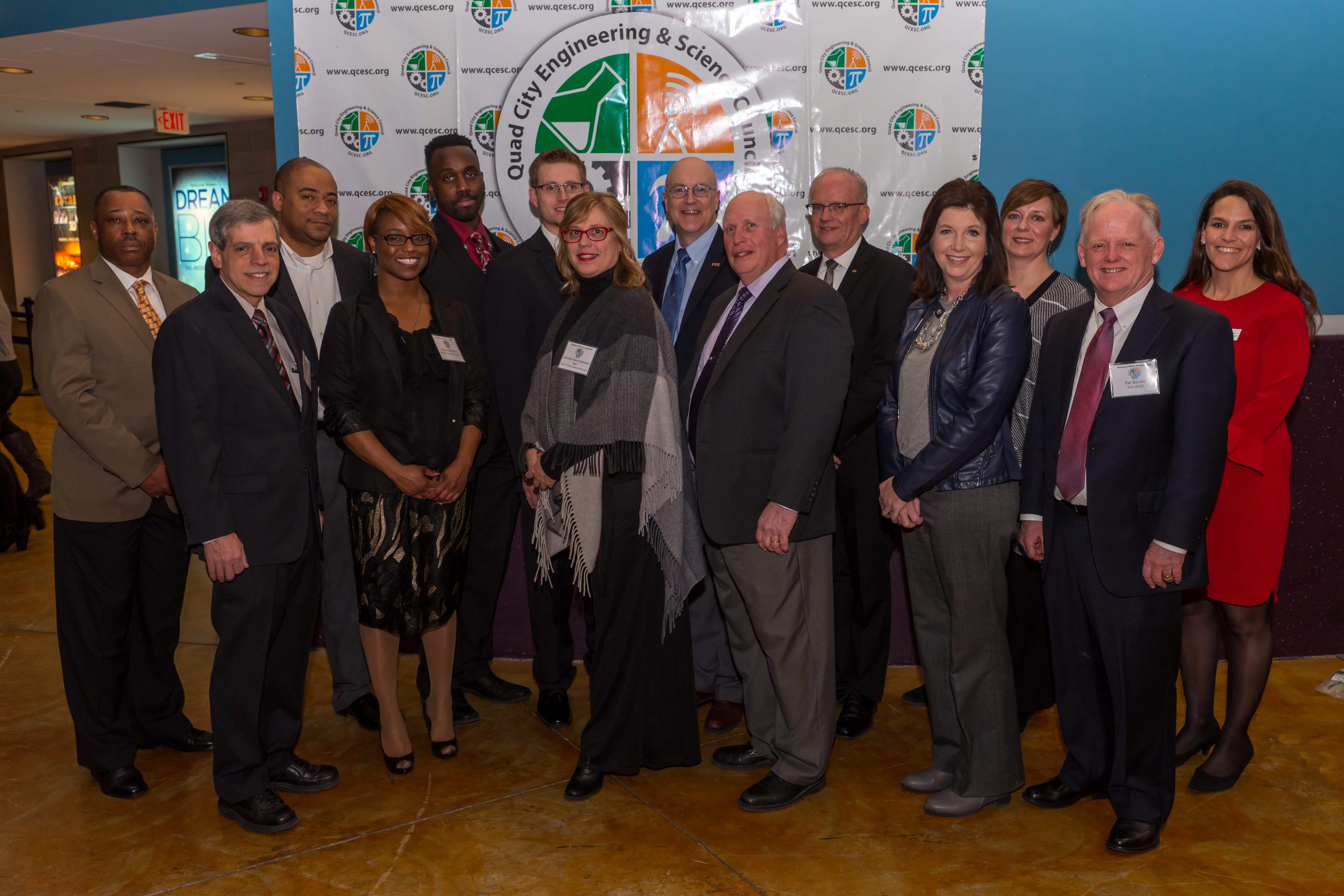 Left to Right: Jeffrey Richland, Arconic – Director, QCESC; Dan D'Alessandro – Awards Chair, QCESC; Chris Lewis – John Deere – NSBE-QC; Kenya Carrington, Exelon – NSBE-QC; Sudan Abdur-Rahman, Rock Island Arsenal – NSBE-QC; Scott Clark, John Deere – Jr. Engineer of the Year; Sanchia Horst-Sommer, East Moline School District – STEM Teacher of the Year; Thomas Heinold, US Army Corp of Engineers – Senior Engineer of the Year; Ray Parrish – Volunteer of the Year; Mark Henthorn, Stanley Consultants – Lifetime Achievement; Camille Sloan Schroeder, Iowa State – President's Award; Megan Dusing, Stanley Consultants – Senior Scientist of the Year; Pat Barnes, John Deere – Director Emeritus, QCESC; Chris Cournoyer – President, QCESC.
The awards were first established in 1966 initially with the Engineer of the Year award. Since then, additional awards have been added including for:
1995 – Scientist of the Year

2000 – Society of the Year

2007 – Lifetime Achievement

2010 – STEM Teacher of the Year

2013 – STEM Volunteer of the Year
Past Award Recipients Listed by Year (1966 – 2018)