Updated 2/9/18 at 6:45 AM
Event is free and open the public
Date:
Saturday, February 10, 2018 – Start time delayed until 10 AM.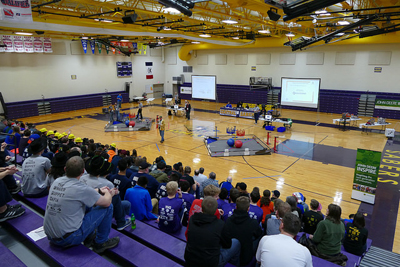 Location:
Davenport North High School
626 W 53rd St, Davenport, IA 52806
Parking:
Volunteers should enter from the East entrance; Teams should enter from the West entrance.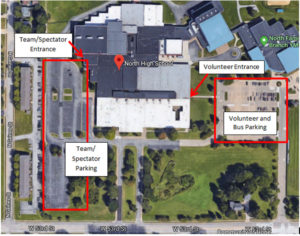 Click to see larger image
What is FIRST Tech Challenge?
It's way more than building robots. FIRST Tech Challenge teams (10+ members, grades 7-12) are challenged to design, build, program, and operate robots to compete in a head-to-head challenge in an alliance format. Participants call it "the hardest fun you'll ever have!"
Guided by adult Coaches and Mentors, students develop STEM skills and practice engineering principles (like keeping an engineering notebook), while realizing the value of hard work, innovation, and sharing ideas. The robot kit is reusable from year-to-year and can be programmed using a variety of languages, including Java. Teams also must raise funds, design and market their team brand, and do community outreach for which they can win awards. Participants have access to tens of millions of dollars in college scholarships. Each season concludes with Super-Regional Championships and an exciting FIRST Championship.
Video on What's FIRST Tech Challenge Video on 2017-2018 FIRST Tech Challenge game challenge FIRST RELIC RECOVERY
About FIRST®
Accomplished inventor Dean Kamen founded FIRST® (For Inspiration and Recognition of Science and Technology) in 1989 to inspire an appreciation of science and technology in young people. Based in Manchester, N.H., FIRST designs accessible, innovative programs to build self-confidence, knowledge, and life skills while motivating young people to pursue opportunities in science, technology, and engineering. With support from over 200 of the Fortune 500 companies and more than $50 million in college scholarships, the not-for-profit organization hosts the FIRST® Robotics Competition for students in Grades 9-12; FIRST® Tech Challenge for Grades 7-12; FIRST®LEGO® League for Grades 4-8; and FIRST® LEGO® League Jr. for Grades K-4. Gracious Professionalism® is a way of doing things that encourages high-quality work, emphasizes the value of others, and respects individuals and the community. To learn more about FIRST, go to www.firstinspires.org.
Teams Competing:
| | | |
| --- | --- | --- |
| Team Number | Team Name | City |
| 4175 | MechaMETROzilla | Cedar Rapids |
| 4324 | Lost In Time | Marion |
| 5143 | Xcentrics | Cedar Rapids |
| 5466 | Combustible Lemons | Davenport |
| 5913 | Drop It Like It's Bot | Marion |
| 5975 | CYBOTS | Denver |
| 6093 | Deviation from the Norm | Bettendorf |
| 7247 | The H2O Loo Bots | Waterloo |
| 7880 | The Carnivorous Rabbits | Cedar Falls |
| 8588 | Finger Puppet Mafia | DeWitt |
| 8672 | UBett | Bettendorf |
| 8695 | Tri Hards | Cedar Rapids |
| 8696 | Trobotix | Iowa City |
| 8813 | The Winter Soldiers | Bettendorf |
| 9708 | Sparklebots | Cedar Rapids |
| 9925 | Delta Robotics | Cedar Rapids |
| 9968 | CrossFire | Cedar Falls |
| 9988 | Taft Robotics | Cedar Rapids |
| 10107 | A League Of Their Own | Marion |
| 10547 | Mortal Combots | Davenport |
| 11142 | Robo Minions Rebooted | Bettendorf |
| 12753 | Interdimensional Robotics | Davenport |
| 12754 | Wired UP | Denver |
| 13857 | Tekkaton | Iowa City |
High Level Schedule:
7:00 AM Setup Volunteers
9:00-10:00 AM Teams / Volunteer Check-in & Pits Open
10:00 AM-12:00 PM Inspections and Team Interviews
12:10-12:30 PM Drivers and Coaches Meeting (Match List Released)
12:30-1:30 PM Lunch
1:30 PM Opening Ceremonies (Matches 1-4 Que)
1:45-4:15 PM Matches
4:30 PM Alliance Selection
5:00-6:00 PM Semi-Final & Final Matches
6:00 PM Awards / Closing Ceremonies
6:30 PM Clean-up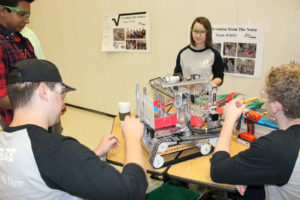 Building Layout: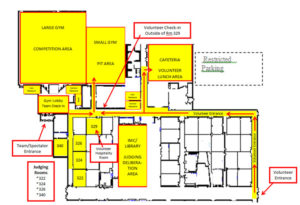 Click to see larger image
Concessions:
Will be available from approximately 9:00 AM – 5:00 PM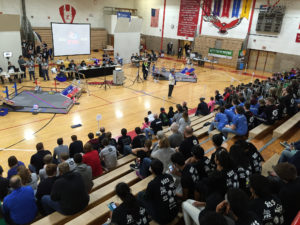 Volunteers:
70+ volunteers are needed to support the event. No previous background or technical background is required for many of the volunteer positions with adults, college and high school students eligible to volunteer.
Link to apply to volunteer for any FIRST event including this event.
Information for Teams:
Rankings:
The top then match scores for each league carry over to the league tournament. As of our last event, the combined standings for both leagues going into the tournament are listed below.
What to bring to check-in:
Team roster (from Dashboard) with consent forms not submitted on-line
Engineering Notebook (requirements for most of the awards)
Complete Robot Inspection Form
Engineering Notebooks:
Most awards require an engineering notebook. Your notebook could be removed from consideration of all awards, if it doesn't include the following elements:
Team name & Team number must appear on the outside of the Notebook
Team Summary Page
Numbered pages
Divided into sections: team section; engineering section; and a team business/strategic plan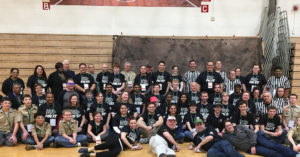 Tips from judges on Engineering Notebooks based on past review sessions using tournament rubrics as a guideline to review the quality of the engineering notebooks. Below are some common notebook attributes that both groups of judges felt should be shared with the teams.
Review highlights and areas to focus on:
Provide Introductory Information – Table of Contents, Bios, Summary Sheet, etc.
Include meeting notes with sketches, lessons Learned, etc.
Have a separate Engineering Section that covers:
o Mechanical Design – Components
o Programming – Coding – Controls
o Strategy: How your bot design meets this year's challenge
Business/Financial & Sustainability
Outreach
Overall Scoring Strategy
Other Reminders:
Glasses – safety glasses are required to be worn at all times in the team pit area and around the competition fields. Failure to wear eye protection in required areas may result in penalization.
Field – Overly aggressive contact with the field perimeter may also result in penalization.
Coaching – Coaches need to let the teams take complete responsibility for ALL phases of team performance. This is their day. Let them be in control.
Pace of play – It is extremely important that teams report to their interview/inspection appointments early. Similarly, failure to queue or take the field when directed may result in the match proceeding without you. This will only become stricter at State and beyond. Be ready to go on time.
Pits – at least one team member should remain in the pits at all times in case judges stop by.
Gracious Professionalism – Although every team is hoping to advance, remember that this is not just about winning. This is about embracing challenge, and supporting each and every team. Make sure good sportsmanship is on display at ALL times. Judges will be observing GP at all times during the event – not just during interviews.
Have fun!
For questions regarding the event, please contact Greg Smith, FTC League Administrator and Co-Event Coordinator via E-mail or phone 309-502-9289
Photos from Past Quad City area FTC events: