2017 Quad Cities
FIRST Tech Challenge Kickoff

Last updated 5Sept – 4:55 PM (check back for updates prior to the event)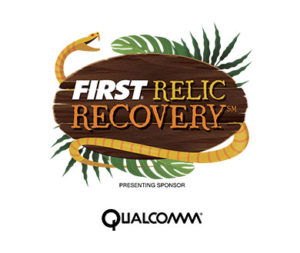 Quad City area FIRST Tech Challenge (FTC) Teams from Iowa & Illinois (students, coaches, and mentors) are invited to attend free of charge, the 3rd annual Quad Cities FTC Kickoff on Saturday September 9, 2017. The event will again be hosted at the John Deere World Headquarters in Moline (One John Deere Place, Moline, Illinois). Teams and volunteers must pre-register ahead of the event to attend to help insure we have adequate space and food & drinks.
The kickoff offers teams an exciting opportunity to see this year's game revealed live with the full field setup, network with other FTC teams and key volunteers and strategize about the new season. Breakout sessions will be available to share key knowledge and experiences to help all teams to have a great season. This includes several returning FTC Teams that have previously participated at the North Super Regional and FIRST World Championship including the 2017 FTC World Champions, the Combustible Lemons from Davenport West High School.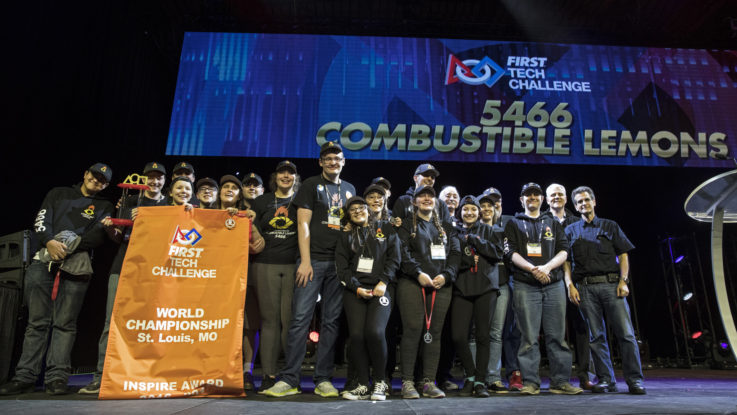 FIRST Championship St Louis 2017, Eward Jones Dome. Inspire Award at closing ceremony. April 29th, 2017.
Team Pre-Registration:
Sign up here by Wednesday, September 6 to Pre-Register and Suggest/Present Breakout Topics
Volunteer Application:
Sign up here We will continue to accept applications for volunteers until we fill out of the necessary roles. Most of the volunteer roles don't require any past experience. Volunteers are needed for check-in, crowd control, photos, and experience judges and mentors for supporting breakout sessions.
The event is hosted by John Deere in partnership with the Quad City Engineering and Science Council, Quad Cities FTC Community, FIRST Illinois Robotics and FTC Iowa. The 2016 event was attended by 26 teams with over 250 attendees.
Consent & Release Forms:
A signed QCESC consent form must be provided at check in for all attendees including teams (students, coaches, and mentors) along with event volunteers and speakers.
For students who are minors (less than 18 years old), the consent form must be signed by one of their parent or guardians.
Link to a blank QCESC consent form which will also be available at the check-in table.

Event Date:
Saturday, September 9, 2017
Overall Schedule:
8:15 – 8:50 AM Check-In

9:00 – 9:20 AM – Opening & Team Introductions and Insights from Combustible Lemons

9:30 – 10:00 AM – Breakout Session #1 (multiple sessions)

10:00 – 10:30 AM – Networking / Break / Snacks

10:30 – 11:00 AM Breakout Session #2 (multiple sessions)

11:10 AM – 12:00 PM – Keynote Speaker & Game Reveal Keynote by Laura Sivertsen
Laura is responsible for the Recruiting & Staffing group in North America at John Deere, including intern programs, college new hires, mid-career, executive, contingent/contractor staffing, and John Deere's early development programs.
Link to detailed schedule with breakouts
Location:
John Deere World Headquarters
One John Deere Place
Moline, Illinois
Link to map with information on parking
Link to Listing of Pre-Registered Teams (Last Updated: 5Sep17 – 5:55 PM)
2017 QCESC FTC Planning Team:
Audrey Knoll
Eddie Mercado
Grant Houseman
Greg Smith
Jason Dennhardt
Pat Barnes
Ray Parrish
Rod Brown

Key Links: