2018 Quad Cities FIRST LEGO League Junior Season Kickoff
Last updated 20Aug18 – 7:15 PM. (check back for updates prior to the event)
Link below for teams to pre-register which is required.
FIRST LEGO League Junior (FLL Jr.) teams (students ages 6 – 10 or grades K – 4) coaches, mentors and parents are cordially invited to the FREE, 2nd annual Quad Cities FLL Jr. season Kickoff! Teams will benefit from interactive table topics, learn how to plan a season, see what comes in the Inspire Set, get a glimpse of WeDo 2.0 programming in action and more. Come learn more about the all new, MISSION MOON season which you and your team will transport to a place where you make the rules, learn to thrive in a new environment, and explore all that is around you.
Come to the Putnam where you will have opportunity to interact with space professionals supporting the new challenge and learn about the FIRST progression of programs for students in grades K-12 with FIRST LEGO League Junior, FIRST LEGO League (grades 4-8), FIRST Tech Challenge (grades 7-12) and FIRST Robotics Competition (grades 9-12).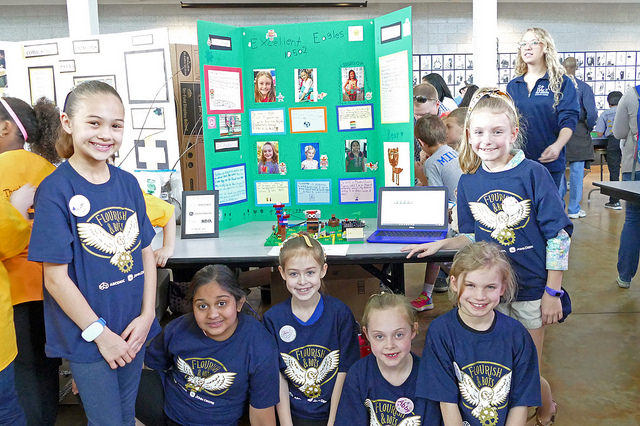 The event will be held on Saturday, September 22, 2018 from 10:10 AM to 12:05 PM and is free of charge through the gracious hosting by the Putnam Museum & Science Center.

Please note that the 6th Annual FIRST LEGO League (students age 9-14) Kickoff will be held in parallel starting earlier in the day.
To help insure we have adequate space and materials, all FIRST LEGO League Junior teams (students, coaches, mentors and parents) attending the kickoff must pre-register and provide signed consent forms when checking in as outlined below.
Link to Pre-Registration for Teams for the Sept 22 Quad Cities FIRST LEGO League Junior Kickoff
List of FLL Jr. Teams that have Pre-Registered Below (Automatically updated):

A signed QCESC consent form must be provided at check in for all attendees including teams (students, coaches, and mentors) along with event volunteers and speakers.
For students who are minors (less than 18 years old), the consent form must be signed by one of their parent or guardians.
Link to a blank QCESC consent form which will also be available at the check-in table.
Event Date:
Saturday, September 22, 2018
Location:
Putnam Museum & Science Center
1717 W. 12th Street
Davenport, Iowa
Event Parking:
With a large number of expected attendees, please allow time for parking. Areas marked in yellow are for team attendees. Volunteers should park in the area highlighted in pink.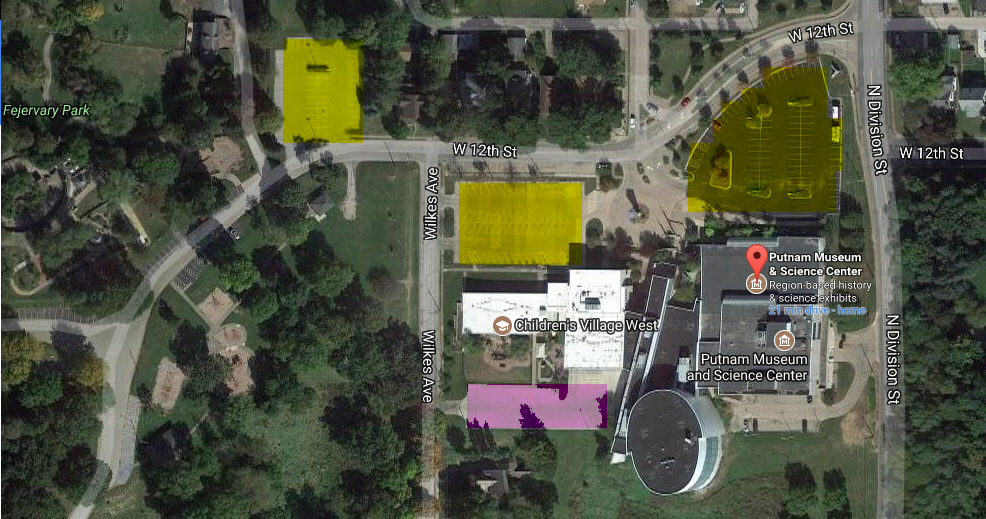 Overall Schedule for FIRST LEGO League Junior:
Time
Event
Location
10:10 – 10:20
FLL Jr. Team Check-in
Main Entrance

10:25 – 11:05

FLL Jr. Overview/Q&A Forum
Theater

11:10 – 12:05

Professional Exhibits
Grand Lobby
FIRST Tech Challenge Demonstration
Grand Lobby
FIRST Robotics Competition Demonstration
Grand Lobby
FIRST LEGO League Junior

Table Topics


WeDo 2.0/Baseplate ShowMePoster/Research
Grand Lobby

12:05

Event Concludes
Link to combined schedule for FLL & FLL Jr.
Exhibitors:
See the listing on the FLL Kickoff page using this link
Link for Organizations or Business to Pre-Register to Have a Display Supporting the FLL & FLL Junior Challenges (no cost to display)
(Deadline to Pre-Register: Wednesday, September 19, 2018 or until full)
2017 Quad Cities FIRST LEGO League & FIRST LEGO League Junior Kickoff Planning Team:
Theresa Barber
Pat Barnes
Madison Bowie
Susan Eckert
Jeff Melvin
Sanchia Horst Sommer
Beth Ullmark
Key FIRST LEGO League Junior Links