The 9th Annual High School Cardboard Boat Race Competition
[ngg_images source="galleries" container_ids="4″ exclusions="20″ display_type="photocrati-nextgen_basic_thumbnails" override_thumbnail_settings="0″ thumbnail_width="240″ thumbnail_height="160″ thumbnail_crop="1″ images_per_page="4″ number_of_columns="2″ ajax_pagination="0″ show_all_in_lightbox="0″ use_imagebrowser_effect="0″ show_slideshow_link="1″ slideshow_link_text="[Show slideshow]" order_by="sortorder" order_direction="ASC" returns="included" maximum_entity_count="500″]Date:
Friday, May 12, 2017
Schedule:
7:30 a.m. – Volunteers arrive & setup
8:00 a.m. – 12:00 p.m – 43 teams compete
12:00 – 12:15 p.m – Special Teacher/School Admin Challenge
12:30 – 1:15 p.m – Remaining 8 teams compete followed by award ceremony
1:30 p.m. – End of event
Link to detailed event schedule with generic team listing
Bettendorf Middle Park Lagoon
2014-2016 Parkway Dr
Bettendorf, Iowa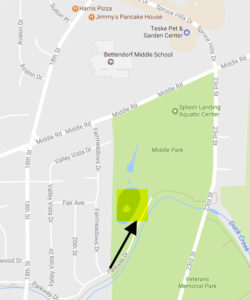 Bad Weather Plan: We plan to hold the event event if it rains unless we encounter extreme conditions such as lighting. If we decide to postpone for the entire day, we will send out an e-mail early on Friday morning and post on this event page. If we need to reschedule, which is very unlikely, we will reschedule to Monday, May 15, 2017.
Last year, we had a record number of teams including: 59 high school teams from 7 area high schools with 144 students along with 5 adult STEM Educators or Engineers in a special challenge.
The competition is part of the QC High School Tech Challenge. High school teams and individuals received points from each of the 3 QC Tech Challenge events (Battle of Bridges Contest, Trebuchet Egg Throw Contest, and Cardboard Boat Race. A traveling trophy is provided to the top high school and an award to the top scoring individual along with a scholarship.
Event Challenge: Teams from area high schools will design and construct a one or two-person vessel made from cardboard. It must be maneuverable and stay afloat for approximately 600 yards. The boats will compete at the Bettendorf Middle Park Lagoon. The boats will be timed from the moment they leave the lagoon dock to the time they return, with the fastest time winning the competition.
Awards:
Top 3 teams based on fast time will receive one picture trophy per team and individual medals for each team member.
Team with most innovative design as judged by the QCESC will receive one trophy.
Teams: Teams will consist of a minimum of one to two students and one adviser. A student is someone who has not yet graduated from high school. An advisor may be a teacher, principal, parent, or guardian or anyone designated by the school that is an adult and willing to take on the challenge and responsibility.
Requirements for teams and/or volunteers to participate:
Certificate of Insurance: Each school or organization with teams participating must provide a copy of certificate of insurance naming the City of Bettendorf as an additional insured on your policy. You can either bring a copy to the event and provide as check-in of your first team or e-mail to Carl Loweth at loweth@gmail.com (QCESC STEM Coordinator). If you have already provided to the City of Bettendorf, please let Carl know. This is required for your teams to participate.
Consent Forms: All participating students & volunteers must provide signed consent forms at check-in to participate. Students under 18 years of age must have the form signed by one of their parents or guardians. Link to QCESC consent form
Life Vest: Anyone that participates in the race must be wearing a coast guard approved life vest. We will have 5-6 life vests of various sizes available to use. If are welcome to bring your own if they are coast guard approved and you want to insure a "dry" vest and the best fit.
Link to Cardboard Boat Race Competition Guidelines & Rules
Link to Cardboard Boat Design Steps
Links for Teams to Pre-Register:
Link for teams to Pre-register –

Please Pre-Register by Monday, May 8 (now closed)
Team Schedule and Sequence:
Specific schedule will be finalized and distributed on Tuesday, May 7.
Teams need to show up a minimum of 20 minutes early and be ready to go when their team is called which may be slightly different than the schedule.
Make sure and factor in travel time.
Team Sequence at the event:

Check in & get team picture
Boat will be inspected to insure meets event rules/requirements
Note: judges reserve the right to re-check boats after the race to insure all materials are in compliance with the published rules.
Briefly review with judges to explain their design and the design process they used and answer questions. The judges will select one boat/team to receive the most innovative award and provide feedback verbal feedback on their boat design.
With life vests on, when instructed the team will put their boat in the water by the dock after the previous team leaves the dock. For this year, once the team ahead of them reaches the island, they will then be given the OK to start.
Students may want to consider wearing old shoes rather than going barefoot when competing in case their boat sinks or overturns and they have to walk to shore (shallow water).
When complete, the team will remove their boat and all associated debris from the water and put their boat in the location for pickup by the City of Bettendorf
List of Pre-Registered Team (as of 10May17 – 11:40 a.m.):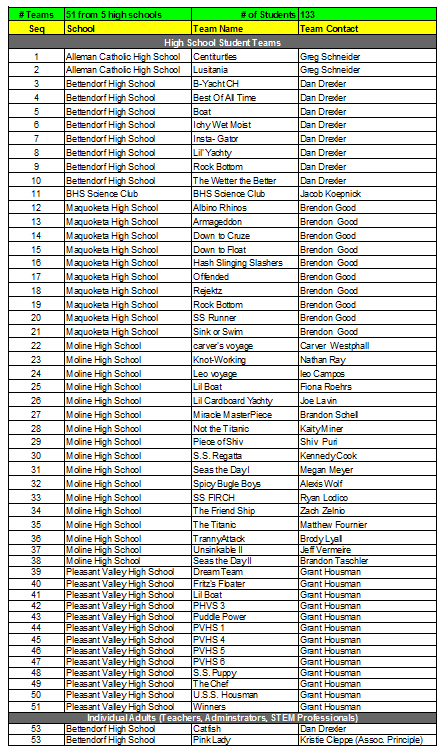 Links for Volunteers to Pre-Register:
Link for volunteers to apply (Continue to accept until all positions filled)
No previous experience is required to be a volunteer. The estimated time required for the volunteers is from 7:30 AM – 2:00 PM
List of Volunteers Assigned by Role (as of 10May17 – 3:30 p.m.)


Event All Time Course Records:
Student Course Record
2:03 – Brayden Weinschenk & Levi Moser, Pleasant Valley High School – 28May12
Teacher/Adult Course Record
2:24 – Dan Drexler, Bettendorf High School – 20May13
Number of Participtes
57 teams, 139 students from 7 high schools (Alleman, Bettendorf, Durant, Maquoketa, Moline, Pleasant Valley, and Rivermont Collegiate) – 13May16
For further information or questions, please contact contact Carl Loweth, QCESC STEM Coordinator at carl.loweth@gmail.com or via phone at 563-505-1196.