The 12th Trebuchet Egg Throw Contest was held on Friday, April 16, 2021 at Bettendorf High School.  21 teams from Bettendorf, Pleasant Valley and North Scott High Schools with 65 students competed.  The detailed results are available with this link.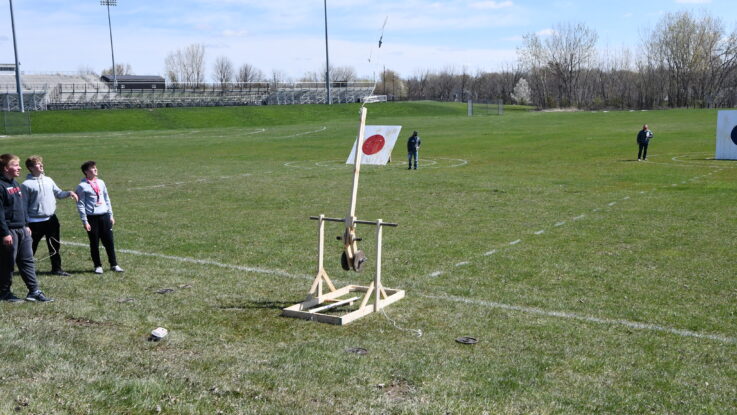 300+ pictures are available with this link.
Here is news media coverage and related posts from the event:
Congratulations to the following teams that received awards! 
1st Place, Million Dollar Arm Team from Bettendorf High School with Finley Bagby, Avery Dubberstein, Tyree Fennelly, Layton Pribyl, and Etan Willis

2nd Place, Floating Grant Team from Pleasant Valley High School with Kole Sommer, Alex Melvin, Corwin Puryk

3rd Place, Houseman Inc, Team from Pleasant Valley High School with Camryn Woods, Ryan Vance, Luke Vonderhaar 

Longest Throw of 223.3 feet, Better Late Than Never Team from Bettendorf High School with Terry Dunn, Ryan Sherman, Robert Schwan

Most Innovation Design, Daniel Team from Pleasant Valley High School with Carter Dougherty, Jaitra Ajgaonkar, Jayden Fairweather, Keval Wagher.  Judges feedback:  "Fantastic execution, great design and impressive presentation.  Excellent job!"

Thanks for our great group of volunteers from Kone, CNH International, John Deere and engineering students from St. Ambrose University.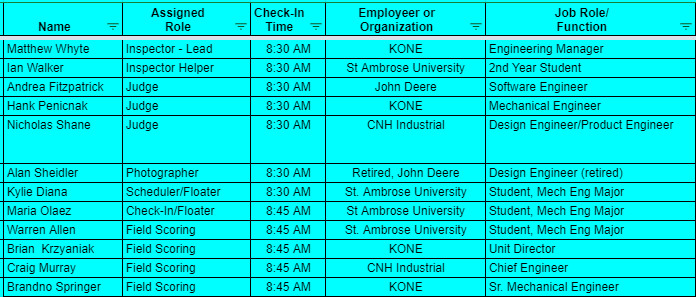 Special thanks to:
Long-term event partners, Pleasant Valley and Bettendorf Schools including Dan Drexler.
Hy-Vee (Devils Glen Store) who donated 24 dozen eggs
Quality Awards (415 20th St, Rock Island). long-term award provider for the QCESC.   
This competition is part of the QC Tech Challenge.  High school teams and individuals received points from each of the 3 QC Tech Challenge events (Battle of Bridges Contest, Trebuchet Egg Throw Contest, and Cardboard Boat Regatta Race).  A traveling trophy is provided to the top scoring high school and an award to the top scoring individual along with a $1,000 scholarship.
Teams:  Teams will consist of a minimum of three students (recommend no more than eight) and one advisor. A student is someone who has not yet graduated from high school. An advisor may be a teacher, principal, parent, or guardian or anyone designated by the school that is an adult and willing to take on the challenge and responsibility.
Event Overview:  Teams design & build trebuchets to launch raw eggs at targets at three, specified distances 75, 100, and 125 feet. Each team will get four shots at each distance with the two best shots counted for scoring along with the points from the longest throw. The field competition portion will count for 70 of the total 110 possible event points.
Link to trebuchet rules & guidelines (updated 3/23/17)
Additional points will be awarded based on the performance for two throws for the longest distance as follows:
*  10 points for 160'+ 
*  9 points for 150'+
*  8 points for 140'+
*  7 points for 130'+
*  6 points for 120'+
*  5 points for 110'+
*  4 points for 100'+
*  3 points for 90'+
*  2 points for 80'+
*  1 point for 70'+
In addition to the trebuchet, a presentation worth up to 40 points is given by each team to local engineers & STEM professionals from the QCESC. 
Event All Time Records:
Longest Throw of 286.5′ in 2014 by Four Kings (AAT) from Pleasant Valley High School (Abhi Gurram, Tyler Oberman, and Arvin Sundaramraj) – Previous record 275.5′ set by Falmer Mode in 2013 from Bettendorf High School (Luke Manwiller & Mitch Parker)
 
Total Number of Students Participating. 37 teams with 124 students from 5 area high schools in 2017.  
For further information or questions, please send an e-mail to STEM@Qcesc.org.
For teachers, if you are new to the event and want to learn more, please view this new video created by David Linnenbrink, North Scott High School Engineering / Industrial Tech Teacher.  He shares some great insights including on how he tied it to their curriculum and what the students learn by participating.  

Links to Pictures from Past Events: