The 7th Annual Quad Cities FIRST LEGO League & 3rd Annual FIRST LEGO League Junior Kickoffs were held on Saturday, September 14, 2019 at the John Deere World Headquarters in Moline, Illinois.
Here is a link to a sampling of photos from the event & a link to the Local Channel 4 WHBF feature story on the event.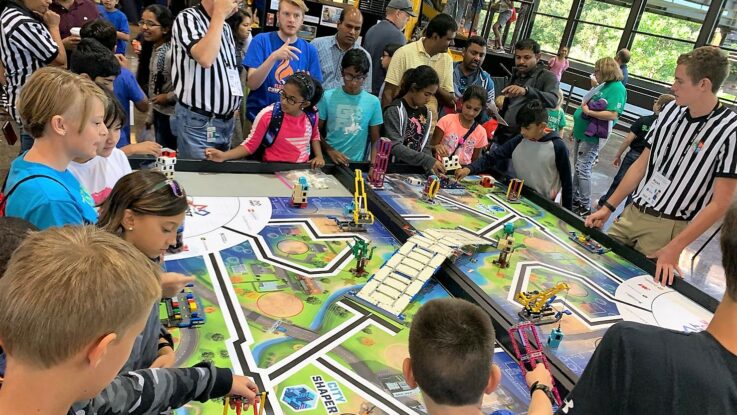 The event was attended by over 400 people including 32 FIRST LEGO League teams & 13 FIRST LEGO League Junior Teams.  21% of the FLL teams were rookie teams and 19% were 2nd year teams.
Special thanks for our keynote speakers!
In addition, we would like to thank our special guests!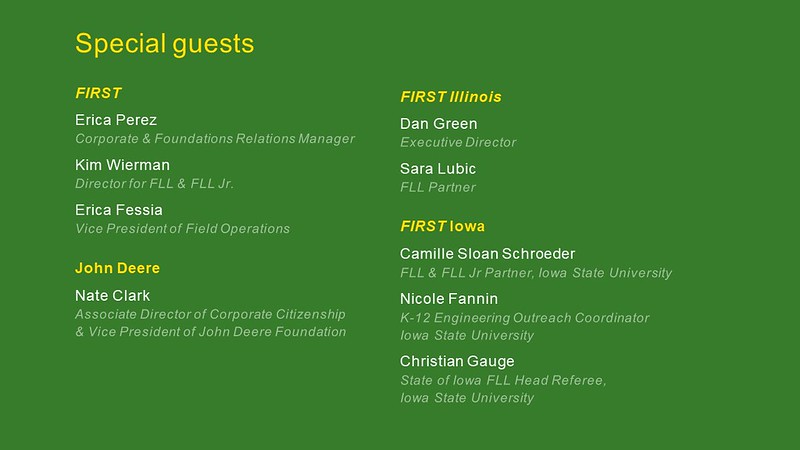 We would also like to thank businesses and organizations who supported displays interacting with the students for their project including: 
Bi-State Regional Commission
City of Davenport, Civil Construction Projects
Habitat for Humanity Quad Cities 
IMEG Corporation
Iowa State University
John Deere Facilities Engineering Group
LEGAT Architects
Quad City Arts
QCESC
Stanley Consultants 
Finally, thanks to all of the presenters, Alumni Panel, Event Volunteers and the Kickoff Planning Team!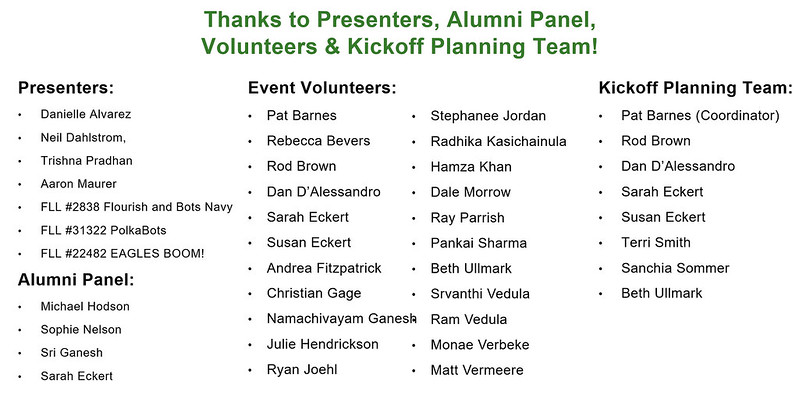 Innovation Project: Insights on the research project including what to expect during your innovation project judging interview
Lead: PolkaBots, Team #31322 (Moline) 2019 Project 1st Place – Illinois State Championship
Core Values: Insights on core values including what to expect during your core values judging interview.
Lead: Flourish & Bots Navy Team #2828 (Bettendorf) 2019 State of Iowa Championship 2nd Place Overall Core Values Award
EV3 Programming: Hands-on overview of LEGO Mindstorms EV3 programming Lead:  Aaron Maurer, Experienced FIRST LEGO League Coach, LEGO Education Master,  Microsoft Innovative Expert, PBS Digital All-Star, Minecraft Global Mentor
Strategy, Locomotion, Navigation:   Insights on strategy, locomotion and navigation including on robot design judging interviews.  Lead:  eagles Eagles, EAGLES BOOM Team #22,482 (Muscatine) 2019 State of Iowa Championship 2nd place Project Innovation Solution & QC Robot Performance & GIA Nominee   

 

​
---
FIRST Progression of Program Displays:
FIRST LEGO League Junior demo:
FTC Team #12863 Flourish & Bots ,
2015 Iowa State FIRST LEGO League Champion & World Championship Qualifier more details 

 

FIRST LEGO League:
CITY SHAPER 2019 – 2020 Game challenge setup with referees to help answer questions
---
Key FLL Links