The 12th Annual Cardboard Boat Regatta Race was held on Friday, May 14th, 2021 at the Bettendorf Middle Park Lagoon. With beautiful weather, 31 high school teams with 66 students competed along with a record 7 STEM teachers & administers in a special adult race.
The event competitors design and construct one or two-person boats made completely from cardboard. The boats must be maneuverable and stay afloat for approximately 600 yards with the goal to have the fastest time in a time trial. In addition, the high school teams are judged by local engineers & STEM professionals with an award given for most innovative design and most decorative design. For more info, here are event rules & cardboard boat design considerations
The theme for this years event was Superheroes with teams encouraged to design and decorate their boat accordingly. The boat with the best decorative design supporting the theme received a judged award.
The complete results from the 2021 event are available with this link. This was the 3rd of 3 competitions in the QC High School Tech Challenge, a STEM challenge series with the top high school winning the traveling trophy & an individual winning top prize.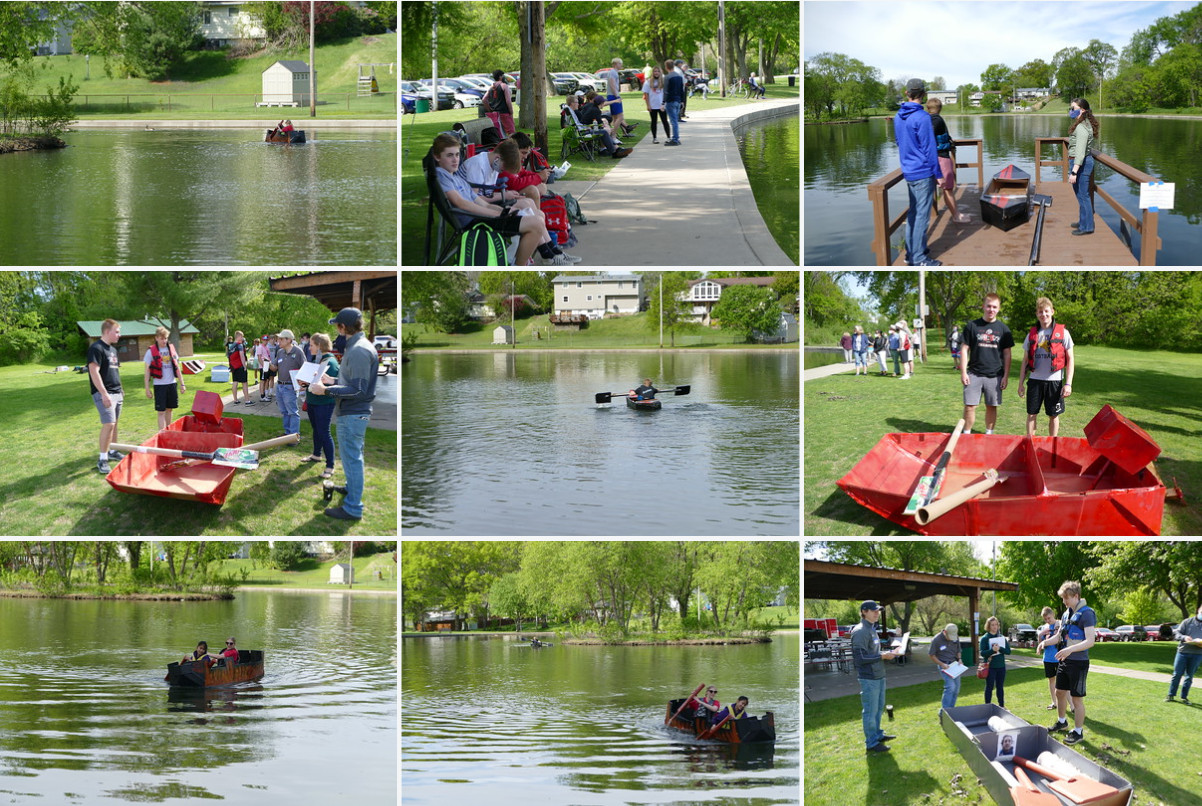 296 pictures from the event are available with this link
Below are links to news media coverage and related posts from the event:
WQAD Channel 8 (Note: Award results are incorrect with a correction requested)
Congratulations to the following teams that received awards!
1st place Race Time
Hangman Tours Team from Pleasant Valley High School with Camryn Woods, Ryan Vance, and Luke Vonderhaar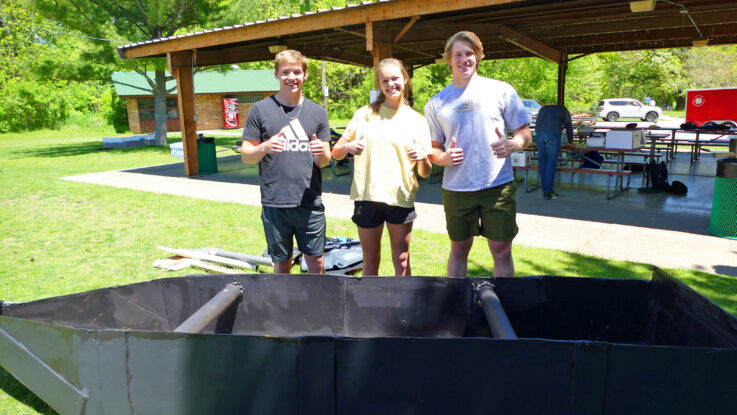 2nd place Race Time
Goin Down Team from North Scott High School with Thomas Taylor and Reegan Maher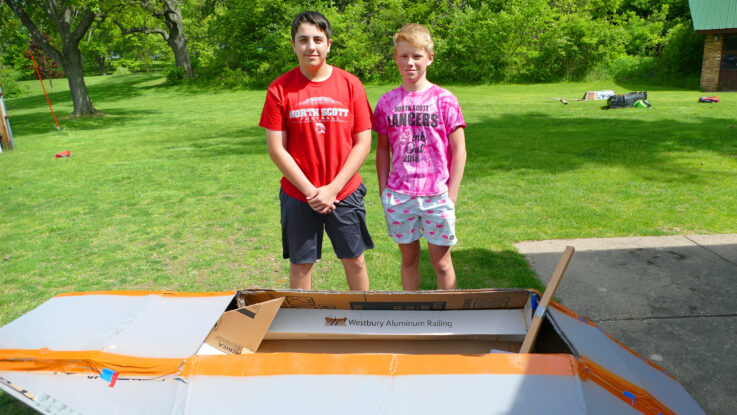 3rd place Race Time
Titanicc Team from North Scott High School with Zach McMillian and Luke Belken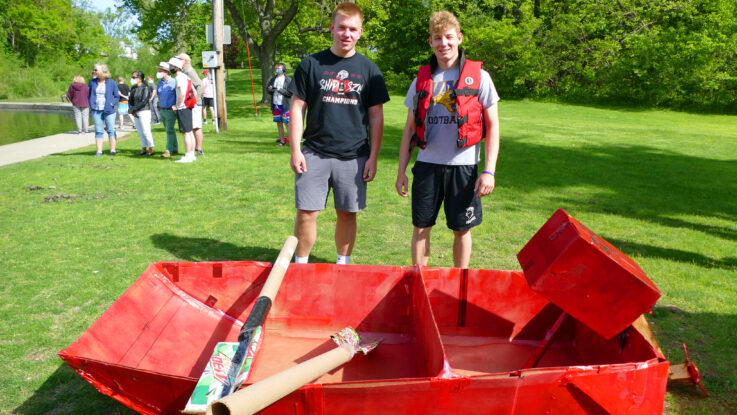 Most Innovative Design Award
Goin Down Team from North Scott High School with Thomas Taylor and Reegan Maher
See above picture
Most Decorative Design Award
Captain America Team from Bettendorf High School with Layton Pribyl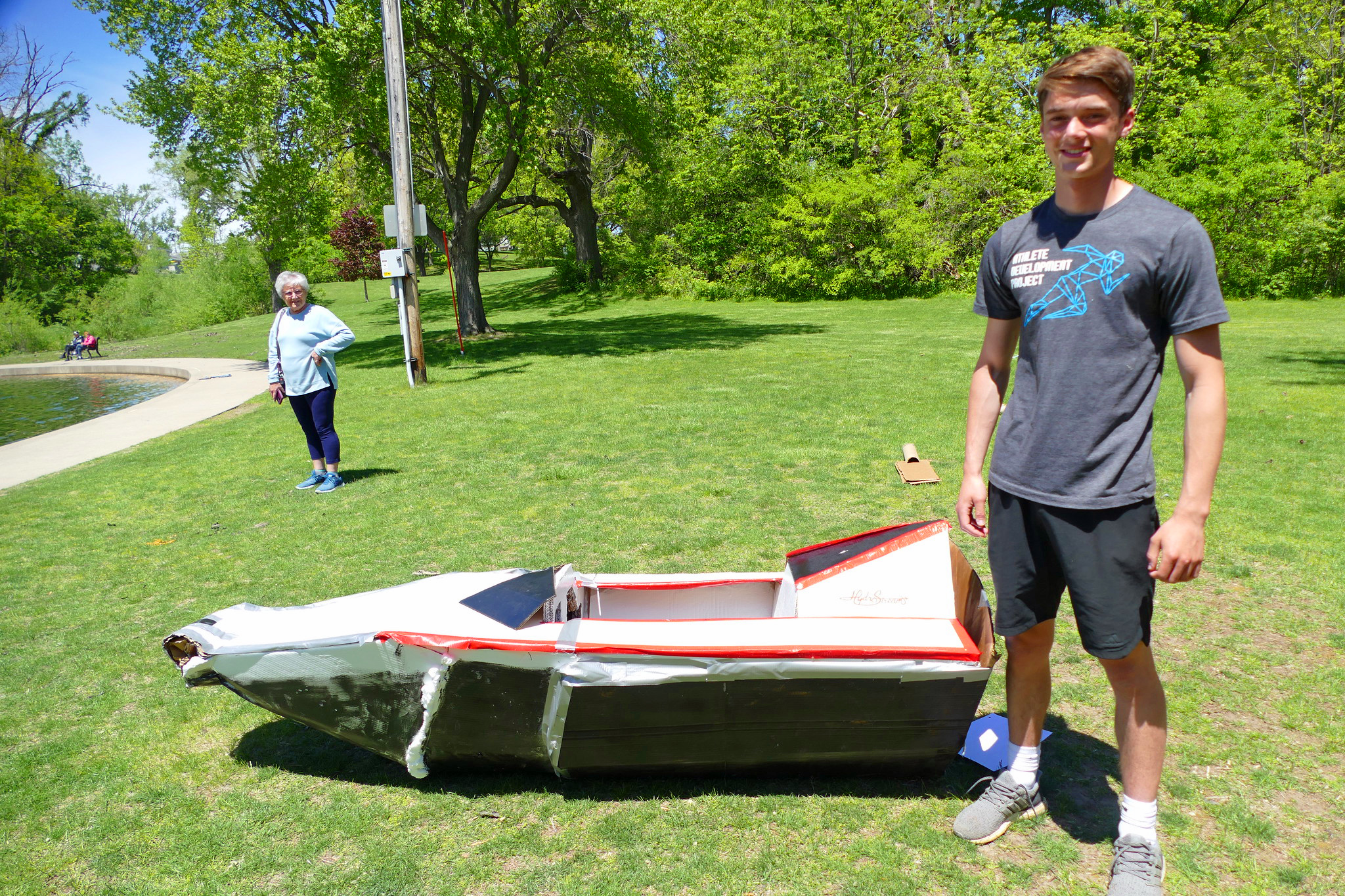 Thanks to the STEM Teachers & Administers who participated in the adult special race!


Left to right, Matt Stutenberg PVHS STEM Teacher, Kristy Cleppe, BHS Associate Principal, Batman, Dan Drexler, BHS STEM Teacher, Michelle Morse, Bett Schools Superintendent, Grant Houseman PVHS STEM Teacher, Adam Pagett PVHS Assistant Principal Not in picture, Mike Christensen, Bettendorf High School, STEM Teacher
A big thanks to our amazing event volunteers who were a critical part of the making the event a success!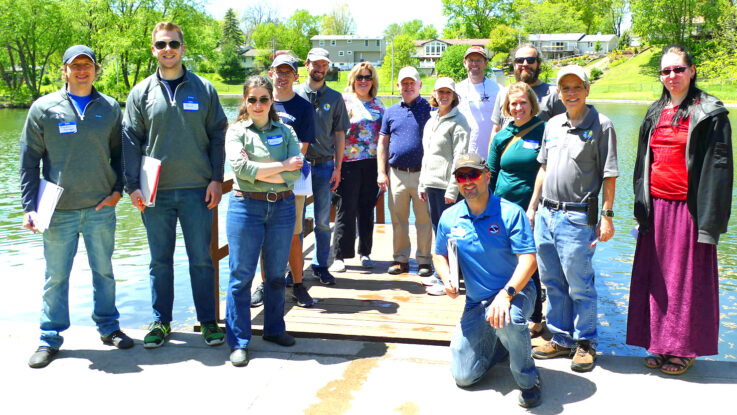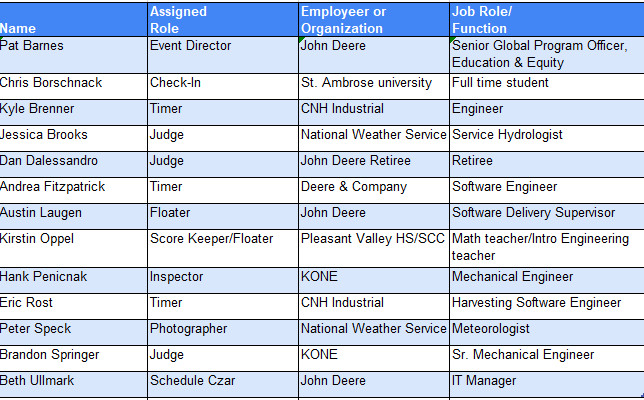 A special thanks to:
Bettendorf Community Schools including Dan Drexler who was the founder of the event along with providing life vests and for the managing the news release ahead of the event.
The City of Bettendorf, long term partner for the event for allowing us to host the event at Middle Park Lagoon and for picking up the cardboard after the event.
Quality Awards (415 20th St, Rock Island). long-term award provider for the QCESC.
Event All Time Course Records:
Student Course Record
2:03 – Brayden Weinschenk & Levi Moser, Pleasant Valley High School – 28May12
Teacher/Adult Course Record
2:24 – Dan Drexler, Bettendorf High School – 20May13
Number of Participates
57 teams, 139 students from 7 high schools (Alleman, Bettendorf, Durant, Maquoketa, Moline, Pleasant Valley, and Rivermont Collegiate) – 13May16
Link to past event photos:
For further information or questions, please email [email protected]