STEM Teacher Night Out events have been coordinated by the QCESC since 2009.  The events provide a forum for STEM Teachers, School Administration and key STEM Stakeholders to collaborate and share information & ideas and see local STEM education & business STEM related facilities in Iowa & Illinois.
Next STEM Teachers Night Out – Thursday,  September 16, 2020
Admission is free and open to the public but a reservation is required
WIU and WQPT have partnered with QCESC for a Socially Distanced September STEM Teachers Night Out. Come join us to view Ken Burns "The Gene: An Intimate History". The movie runs for 45 minutes, after which attendees are invited to stay for a second movie (likely Jurassic Park or something thematically similar).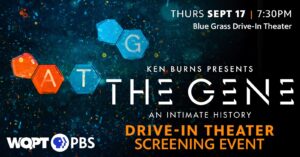 Date:  
Thursday, September 17th
Time:  
7:30 pm
Location:
Bluegrass Drive-In Theater
774 W. Mayne St.
Blue Grass, IA 52726
If you have any further questions, send an e-mail to: QCESC.org@Gmail.com
---
Past STEM Teacher Night Out Events: