February Society Spotlight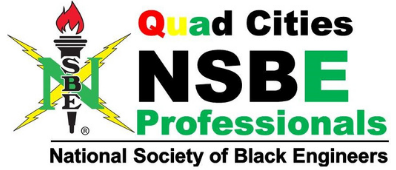 The Quad City National Society of Black Engineers (NSBE) Professionals Chapter was officially founded on April 28, 2016. Their mission is "to increase the number of culturally responsible Black Engineers who excel academically, succeed professionally and positively impact the community."
The Chapter lives out its mission by participating in events like the Walk for Education and the Juneteenth Celebration, by sponsoring the MLK Jr. Community Center's robotics team, and by volunteering with One by One at Glenview Middle School.
QC-NSBE's most recent event was the annual Executive Leadership Panel in which business executives shared their knowledge with attendees. This year was virtual and the theme was "Social Justice in Corporate America. It was the best attended event in three years, with people as far as California, North Carolina and Washington DC joining in the conversation.
Each Spring QC-NSBE offers a scholarship and hosts an annual scholarship banquet. In 2020 Asrielle Allen, an Actuarial Science student at Drake University, received the scholarship. In 2021 the Scholarship Banquet will look different i.e., virtual, but QC-NSBE will still offer a scholarship. Requirements for the scholarship will be available on QC-NSBE's Facebook page and by request.
"I would say the benefits of partnering with the QCESC is a greater ability to collaborate with other STEAM Professionals and STEAM organizations in the area; increasing the ability for community outreach as well as raising brand awareness for QCNSBE; as well as in all honesty getting to know and work with some really great people who basically have the same mission as NSBE which is to positively impact the community", states Sudan Abdur-Rahman, past president and member of QC-NSBE.General chapter meetings are the 2nd Thursday of each month via Zoom. For more information please contact qcnsbe.membership@gmail.com . Also, check out their Facebook Group https://www.facebook.com/groups/QCNSBEPROFESSIONALS .
Society Notes
https://docs.google.com/spreadsheets/d/1Teq22q5NWiGZ2Gl4qrgfxYWeK840cQhWYZdv8wCNT_c/edit?ts=5c6328c3#gid=0
Locally Inactive – Nationally Active:
Abbreviation – Society Name
Full Society Name –


Section / Chapter Name
Number
of Local
Members
Local


Website Link
National


Website Link
AFE
Association of Facilities Engineering


Great River Chapter No. 108
Link
AFS
American Foundry Society
Quad Cities Chapter
121
Link
AITP
Association of Information Technology Professional


IlIowa Chapter

50
Link
Link
ANS
American Nuclear Society
Quad Cities Branch
30
Link
APICS
American Production and Inventory Control Society
Quad-Cities Chapter
Link
ASHRAE
American Society of Heating, Refrigeration and Air Conditioning Engineers


Mississippi Valley Chapter –

Updated Link on 4Oct13

120
Link
Link
ASM
ASM International
Quad Cities Chapter
90
Link
ASME
American Society of Mechanical Engineers


Iowa-Illinois Section
150
Link
ASPE
American Society of Professional Estimators
Quad City Section
70
Link
Link
CCAI
Chemical Coaters Association International ???
Quad Cities Chapter
Link
Link
FPS
Fluid Power Society
Quad-City Chapter 16
35
Link
IEEE-Student Branch
IEEE Student Branch
St. Ambrose University

Link
Link
IES
Illuminating Engineering Society of North America


Black Hawk Section
65
Link
IIE
Institute of Industrial Engineers
Mississippi Valley Chapter
45
(1Sept10)
Link
Link
ISA
International Society for Measurement and Control


Quad-City Section
Link
SAVE
SAVE International


Iowa-Illinois Chapter
19
Link
SME
Society of Manufacturing Engineers


Quad Cities Chapter No. 23
200
Link
Link
Societies Deceased:
Quad-Cities Material Handling Society (QCMHS)
---