June Society Spotlight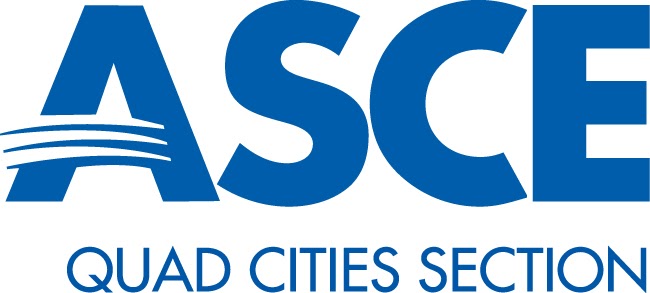 The American Society of Civil Engineers represents more than 150,000 members of the civil engineering profession in 177 countries. Founded in 1852, ASCE is the nation's oldest engineering society. Through the expertise of its active membership, ASCE is a leading provider of technical and professional conferences and continuing education, the world's largest publisher of civil engineering content, and an authoritative source for codes and standards that protect the public.
The Quad Cities Section covers the QC Region including a roughly 50 mile radius. Currently the Section has approximately 200 members. Section membership is composed of practicing professional civil engineers in our community working in private practice and/or government offices. They include all segments of civil engineering practice with respect to experience and discipline. Membership in ASCE provides engineers the opportunity to participate in local, regional and national efforts to further the practice of civil engineering, support the development and direction of community/government policies relevant to infrastructure that helps maintain a healthy, safe and thriving society. ASCE offers members access to insurance and travel related discounts, a library of professional development seminars/workshops and conferences to support continuous education, regional and national conferences where current issues are addressed and engineers are able to network on a worldwide level, and the opportunity to build relationships with engineering peers within the local area.
Volunteers at the Battle of the Bridges – March 2021
ASCE Quad Cities Section is an active supporter of STEM in our region. The QCESC's annual Battle of the Bridges relies on the Section for volunteers and financial assistance. And, during the QCESC STEM Celebration in February 2021, ASCE QC Section awarded two scholarships to graduating high school seniors to use toward their civil engineering education next fall.
Each month, the Section holds online lunch meetings at Noon on the third Wednesday of each month. On June 16th, the meeting topic will be the QC Airport Taxiway realignment. Future meeting topics include Engineering Ethics Training seminar and the Bi-State Traffic Modeling. Check out this link for information on this and other events: http://sections.asce.org/quad-cities/events
Each year, the Society of American Military Engineers (SAME) partners with the ASCE QC Section in a joint conference, typically held in October.
"The ASCE-QC Section is partnering with the Quad City Engineering and Science Council (QCESC) to help promote our events and increase ASCE's and QCESC's presence in the community," said Sara Somsky, Section President.
ASCE welcomes those who are interested in being a part of the QC Section. To find out more, go to http://sections.asce.org /quad-cities/contacts or email Sara Somsky at sara.somsky@terracon.com . To learn more about ASCE, visit its website https://www.asce.org/