Volunteers Needed  2020 – 2021 FIRST Events 
To Support Student age 6-18 on FIRST Teams
Page Last Update: 24Jan21 (check back for updates)
Are you looking for a way to share your skills, talents, passion having fun and positively impact the lives of students age 6-18 in our community?  It doesn't matter which FIRST program you volunteer for, you will always walk away at the end of the day with a sense of pride and fulfillment, knowing that you have helped children experience something special that they never might have without FIRST and without your support.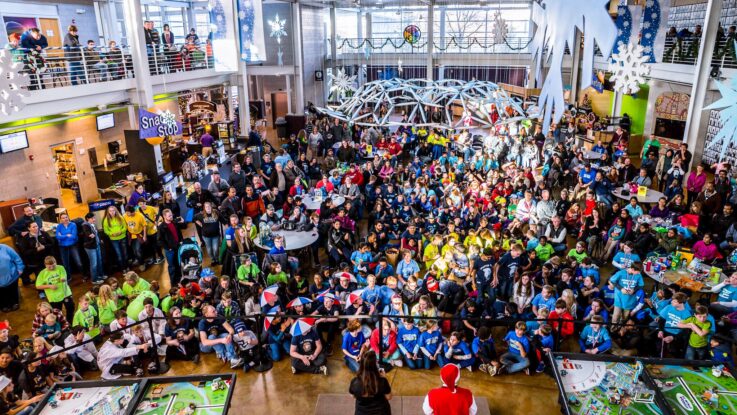 Because of COVID-19, nearly all of the FIRST events for the 2020 – 2021 season will be virtual and will be later in the season.   With less teams and being virtual, many of the normal volunteer roles won't be needed such as photographers, pit managers, check-in, security, etc.  The result is that less volunteers will be needed with volunteers needed primarily for being judges and referees.  Since the events are virtual and no travel, you can volunteer for any event, anywhere based on whatever date works best for you.
Exactly how the programs are setup and utilize volunteers virtually will be slightly different by program and by state. 
An example is with FIRST LEGO League Challenge.  Instead of the judging and refereeing being at an all day event, the judging and refereeing will be ahead of the one-hour virtual award ceremony spread over several weeks.  In some cases, judges and referees will interact live with teams virtually and in other cases, teams will submit videos for their robot matches and for their judging sessions.  The judges will eventually meet virtually to deliberate like they normally do and decide on awards ahead of the award ceremony.
Details on Volunteering by State and Program:
Illinois:
FIRST LEGO League Challenge:
Referees – fill out this form if you want to volunteer as a referee.
Please submit by 20Nov as the referees will be starting in a few weeks with mandatory training the week of Thanksgiving.
Judges – Being managed by each event coordinator.  Volunteers can sign-up by event using this link.
FIRST Tech Challenge:
Will not need volunteers for remote (virtual) meet tournaments.
Will need virtual judges with teams of three judges each interviewing 4-5 teams Friday night and on Saturday will have callbacks and deliberations virtually.
Dates that will require judges are:

19-20Feb21 (League Championships)
26-27Feb21 (League Championships)
19-20Mar21 (State Championship)

The link for signing up to volunteer will be added when it's available.
Iowa:
FIRST Tech Challenge:
Are looking for volunteers to be judges for the Dean's List with interviews with individual students.
The Dean's List judging will be on Sat, 30Jan21
Volunteers can sign-up to volunteer for the event "IA FTC DEAN'S LIST INTERVIEW DAY REMOTE" in the FIRST Volunteer Management System. Here is direct link.
Other Iowa FTC events are shown with this link.
FIRST LEGO League Challenge
Virtual volunteers are being sought as judges, judge assistants, referees for supporting 30Jan, 6Feb, 20Feb, 6Mar, and weekday support.
Here is a link to sign-up to volunteer.  Please let fll@iastate.edu know if you have any questions. 
FIRST LEGO League Explore
Virtual volunteers are being sought as reviewers for supporting 30Jan, 6Feb, 20Feb, 6Mar, and weekday support.
Here is a link to sign-up to volunteer.  Please let fll@iastate.edu know if you have any questions. 
A step by step guide for signing up to volunteer with FIRST is available with the link below:
https://www.firstinspires.org/sites/default/files/uploads/resource_library/volunteer/volunteer-registration-step-by-step-guide.pdf
Note:  In order be assigned to a volunteer position, adult volunteers will need to pass the background check initially the first time they create an account and apply as part of FIRST's new Youth Protection Program.  Note:  you are not required to provide your social security number and there is no cost for the background check to you.  The background check is done the first time you apply and there after every three years.  A background check for minors is not required.
Volunteers will receive an e-mail when you have been assigned to a role.
Further details on COVID-19 by FIRST program including guidelines for teams meeting safely is available here. 
FIRST Background:
FIRST was founded in 1989 by Dean Kamen (inventor of the Segway) with their mission to inspire young people to be science and technology leaders, by engaging them in exciting mentor-based programs that is much #MoreThanRobots by building science, engineering and technology skills, that inspire innovation, and that foster well-rounded life capabilities including self-confidence, communication, and leadership.
(Link to amazing FIRST student impacts)
Links to key information on volunteer at FIRST events:
Links to further information on FIRST programs:
If you have any questions regarding volunteering at Quad City area FIRST events, send an e-mail to STEM@QCESC.org