Volunteers Needed  2021 – 2022 Quad City area FIRST Events 
To Support Student age 4-18 on FIRST Teams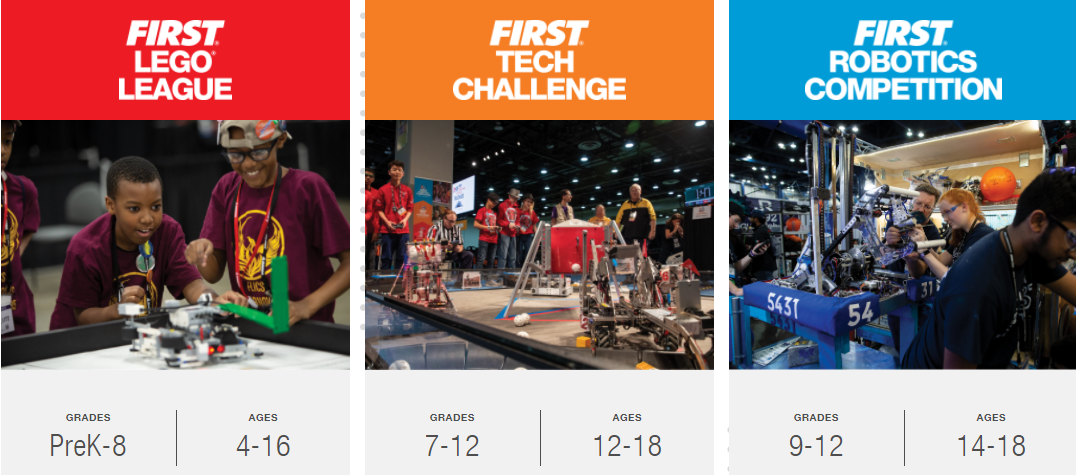 Are you Looking for a way to share your skills, talents, passion having fun and positively impact the lives of students age 4-18 in our community?  It doesn't matter which FIRST program you volunteer for, you will always walk away at the end of the day with a sense of pride and fulfillment, knowing that you have helped children experience something special that they never might have without FIRST and without your support. 
No prior experience is required for most volunteer roles including as judges and referees with both technical and non-technical backgrounds welcome.  Volunteers are being sought for the below upcoming events.  The events will be in person with special provisions taken to minimize risks with COVID-19 making the events look different than normal.  
FIRST LEGO League Challenge Events 
Friendly competition is at the heart of Challenge, as teams of students ages 9-14 engage in research, problem-solving, coding and engineering – building and programming a LEGO robot that navigates the missions of a robot game. For this year's CARGO CONNECT challenge, teams will be presenting their innovative solutions for improving transportation to be faster, more reliable, inclusive, and sustainable.  This could include from the shipment of packages in rural and urban areas, to disaster relief delivery and high-tech air transit. 
 Sat, 4Dec21 Quad Cities – Moline Qualifier 

Hosted at the John Deere Pavilion – Moline
22 teams competing 9:00 AM – 3:00 PM 
Click here for more info or to sign-up to be on of 30+ volunteers  
Note: You need to have or create a free FIRST volunteer profile.    
Sat, 11Dec21 Dewitt Qualifier 

Hosted at Central Dewitt Community Schools
Click here for more info or to sign-up to a volunteer 
Note: You need to have or create a free FIRST volunteer profile.    
---
FIRST Tech Challenge Events:
30Nov21 – Iowa Blue League Meet 
11Dec21 – Iowa Blue League Meet 
18Dec21 – Western Illinois League Meet 2
8Jan22 – Iowa League Tournament 
15Jan22 – Western Illinois League Meet 3
5Feb22 – Iowa Super Qualifier  

Hosted at Pleasant Valley High School
Link to volunteering to be added when event is setup in FIRST volunteer system.
---
Quad City 2021 – 2022 FIRST events that already occurred:
Sat, 20Nov21 Quad Cities – Davenport Qualifier

Held at the Putnam Musuem & Science Center 
20Nov21 – Western Illinois League Meet 1

Hosted at Moline High School
---
Need help signing up to volunteer Download the Volunteer Registration User Guide
Note:  In order be assigned to a volunteer position, adult volunteers will need to pass the background check initially the first time they create an account and apply as part of FIRST's Youth Protection Program.  Note:  you are not required to provide your social security number and there is no cost for the background check to you.  The background check is done the first time you apply and there after every three years.  A background check for minors is not required.
Volunteers will receive an e-mail when you have been assigned to a role.
Further details on COVID-19 by FIRST program including guidelines for teams meeting safely is available here. 
FIRST Background:
FIRST was founded in 1989 by Dean Kamen (inventor of the Segway) with their mission to inspire young people to be science and technology leaders, by engaging them in exciting mentor-based programs that is much #MoreThanRobots by building science, engineering and technology skills, that inspire innovation, and that foster well-rounded life capabilities including self-confidence, communication, and leadership.
(Link to amazing FIRST student impacts)
Links to key information on volunteer at FIRST events:
Links to further information on FIRST programs:
If you have any questions regarding volunteering at Quad City area FIRST events, send an e-mail to STEM@QCESC.org