Save the date for the 59th Annual STEM Celebration
Everyone, including students, educators, professionals and their families and friends, are cordially invited to attend this annual premier, inspiring event at the Putnam Museum and Science Center.  The event provides an opportunity to celebrate, network and showcase the great Science, Technology, Engineering, and Math (STEM) Professionals and Educators in the Quad Cities region.  The event is tentatively scheduled to be held during Engineers Week (E-week) on February 25, 2021
This annual event, formerly known as the QCESC Engineering Banquet, will include Networking with a Social with Heavy Appetizers and a cash bar  on the Putnam Lobby floor with STEM displays by students, technical societies, sponsors, and education institutions. 
2020 Event 
Link to register for a display or get more information.
The program in the National Geographic Theater will include awarding of 13 STEM scholarships totally $23,000 to the top local high school seniors along with STEM awards for Engineers, Scientists, STEM Teacher and STEM Volunteer of the Year.   

Camille Sloan Schroeder will deliver the Keynote address, titled "Staying Inspired in STEM".    Her talk will focus on sharing STEM references and people in history that stayed inspired and made a difference in STEM.  Her talk will also include information about STEM programs, ways to get involved and stay inspired.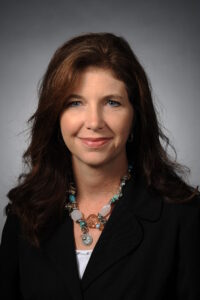 Camille oversees Iowa State University's College of Engineering Community Outreach programs with key efforts to increase representation of women and minorities in the STEM fields. Camille has been active in Iowa STEM programming and promotion for twenty years from serving as inaugural director of Iowa FIRST LEGO® League (FLL) and FIRST LEGO® League Jr. (FLL Jr.) and Iowa Project Lead the Way (PLTW), to now working to lead efforts related to promotion of Iowa Manufacturing Day and serving as a co-Principal Investigator of an Economic Development Administration University Center grant related to rural workforce and pipeline development . Camille is in her third, Governor-appointed term to the North Central STEM Hub Advisory Board where she previously served as chair, as well serving on the statewide STEM equity committee. Camille serves her community as vice president of the Board of Education and is in her eighth year of service, as well as being active with various community engagement.

Camille holds an undergraduate degree in Business and a Master's focused on Educational Leadership. She and her husband have four children and live in rural Boone County.
---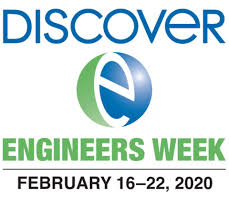 Thursday, February 20, 2020
5:00 – 8:30 P.M.
Putnam Museum & Science Center
1717 W. 12th Street, Davenport, Iowa 52804

---
PUBLIC WELCOME
$30 for Adults; $20 for Full-Time Students with ID
Includes heavy appetizers with cash bar
Register to Attend the Banquet 
Preregistration Deadline Extended to February 19, 2020
Thank you to our Sponsors
Gold Level Sponsors:
Silver Level Sponsors:

Bronze Level Sponsors:

---
2020 Event Schedule:
5:00 – 6:25 PM Networking with Social on Putnam Lobby Floor including:

STEM Displays by students, technical societies and educational institutions
Cash Bar
Heavy Appetizers
Silent Auction

6:20 PM Begin moving to the National Geographic Theater
6:30 – 8:15 PM Program in National Geographic Theater
Program will include:

Welcome & Introductions
Presentation of the 2020 STEM Scholarships
Presentation of 2020 QCESC Awards
Announcement of New Members of:

Order of the Engineer Link
The Pledge of Computing Professionals

Keynote " Staying Inspired in STEM"by Camille Sloan Schroeder with Q&A
Closing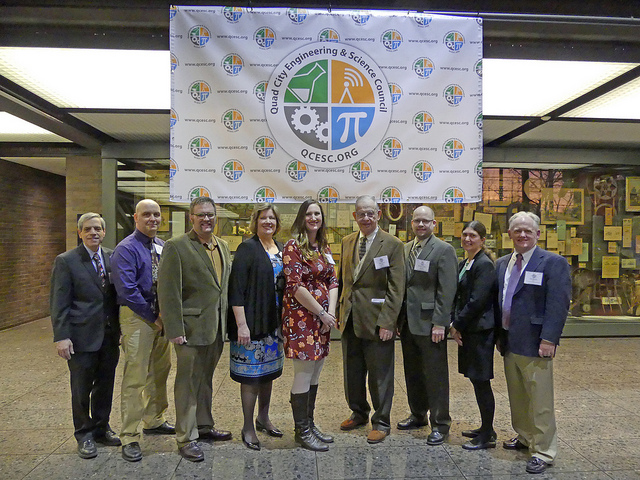 2019 QCESC Award Winners
---
Organizations or individuals wishing to have a display during the social hour need to fill out this form and submit. With the social scheduled from 5:00 – 6:30 PM, you need to be setup no later than 4:45 PM. Those who are at their display tables and wish to participate in the heavy appetizers need to register as attendees as well.
Register to have a Display

Any further questions on displays should be sent to Sankari Kandasamy, QCESC STEM Coordinator via e-mail at sankarikandy@gmail.com.
Current Organizations Signed Up for a Display:
Davenport Radio Control Society: Radio controlled aircraft, components, and a computer simulator
FIRST Robotics Competition Team #648, QC Elite – Flaming Squirrels, info on FRC and team's 20 year history
FIRST Robotics Competition Team #6317, Disruptive Innovation, from Davenport West High School, robot and outreach
FIRST Tech Challenge Team #8813, Winter Soldiers: Competition robot along with other robotics related items and hand outs.
FIRST Teams: Flourish & Bots project supporting girls in FIRST with FIRST LEGO League Junior, FIRST LEGO League, and FIRST Tech Challenge teams
Iowa State University Engineering Community Outreach: FIRST LEGO League & FIRST LEGO League Junior Information
Iowa STEM: Information about grants and teacher externships
Mobile Aviation Historical Exhibits: Various Scale-Model Rockets
Morrison Tech: Projects and prototypes as well as program and organizational info
Pleasant Valley High School: FIRST Tech Challenge robot related information
Project Lead the Way (PLTW): Interactive Projects from the High School Engineering and Computer Science Pathways
Society of Automotive Engineers (SAE), UW-Platteville: Display with manufactured parts with information about the group.
Stanley Consultants: Projects with shaker table earthquakes simulation
University of Wisconsin-Platteville: General information
Western Illinois University Quad Cities, College of Engineering: Autonomous vehicle, designed and constructed by seniors, and inf on school.
---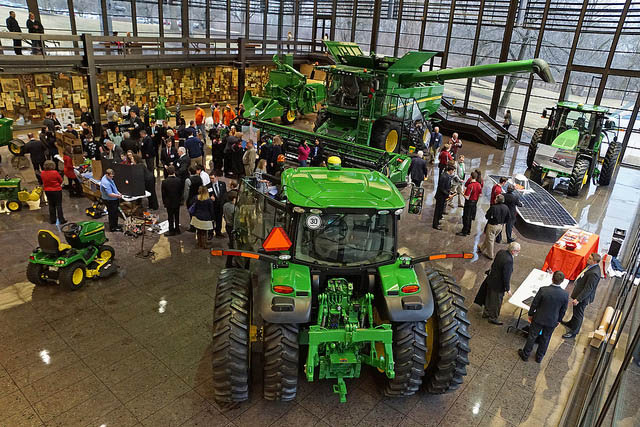 Networking with Social on John Deere Display Floor – 2019
---
If you need further assistance, send an e-mail to Qcesc.org@Gmail.com