2021 QC Tech Challenge 
On May 25,  the overall winners for the 2021 QC Tech Challenge were presented.
The QCESC, in conjunction with the Bettendorf and Pleasant Valley High Schools, sponsors the annual series of three competitive events (Bridge Building, Trebuchet Egg Throw, and Cardboard Boat Race) open to high school teams from Iowa and Illinois. The goal of the events is to provide a competitive, fun team environment to support and encourage students in the real-world, hands-on application of science, technology, engineering and mathematics (STEM).  This includes skills such as problem solving, team-building, and presentation skills.
High school teams and individual students receive points from each of the 3 QC Tech Challenge events.  A traveling trophy is provided to the top high school and an award to the top scoring individual along with a $1,000 STEM scholarship.
2021 QC Tech Challenge Overall Top Scoring Team:  Pleasant Valley School

Along with students shown in the picture from left to right are Beth Ullmark, QCESC VP, Grant Housman, Pleasant Valley High School STEM Teachers, and on the right side, Austin Laugen, QCESC President.
2021 QC Tech Challenge Overall Top Scoring Individual Student:  Finley Bagby, a Junior from Bettendorf High School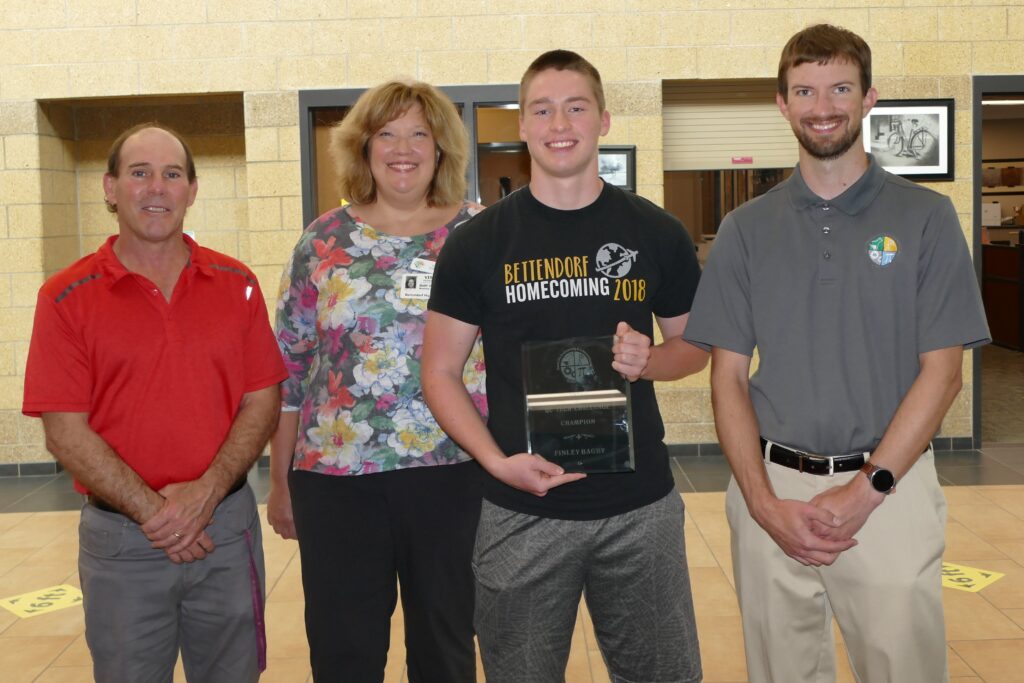 Picture left to right:  Dan Drexler, Bettendorf High School STEM Teacher, Beth Ullmark, QCESC VP, Finley Bagby, and Austin Laugen, QCESC President
Further details:
2021 Individual Events:
14th Annual Battle of the Bridges
With COVID-19, teams picked up bridge materials on Feb. 25 or 26, had one week to build, and then dropped off their bridge on March 5 or 6th at Putnam Musuem & Science Center.  The bridges were then tested on Sat, March 6 with the event live streamed.
The Bridge building contest was open to all ages  with teams of up to four.   No pre-work required with all of the necessary materials provided.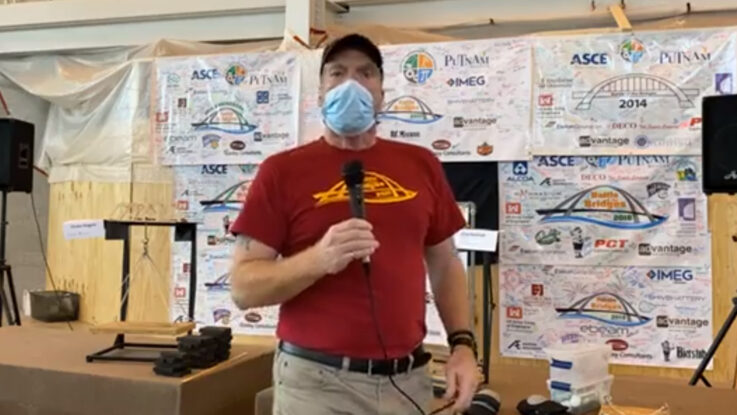 12th Annual Trebuchet Egg Throw Competition
April 16, 2021
Bettendorf High School football practice Field
Teams of 3-8 high school students designed & built trebuchets to launch raw eggs at targets at three, specified distances 75, 100, and 125 feet. Each team received four shots at each distance with the two best shots counted for scoring along with the points from the longest throw. The field competition portion counted for 70 of the total 110 possible event points.  In addition to the trebuchet field competition, a presentation worth up to 40 points is given by each team to local engineers from the QCESC.  Link to event results, photos, rules and local media coverage.
12th Annual Cardboard Boat Regatta Race Competition
May 14, 2021
City of Bettendorf Middle Park Lagoon
Teams of 1-3 high school students designed and constructed  boats made completely from cardboard. The boats must be maneuverable and stay afloat for approximately 600 yards with the goal to have the fastest time in a time trial. In addition, the high school teams are judged by local engineers & STEM professionals with an award given for most innovative design and most decorative design.  Link to event results, photos, rules and local media coverage.

---
Prizes for QC Tech Challenge:
Top three teams at each of the events based on the scores will receive:

One picture trophy per team
One medal for each team member

Most innovation design selected by judges at each event will receive:
Longest Trebuchet throw team will receive:
Individual with the highest score from the three events will receive:

Trophy & $1,000 QCESC STEM scholarship
Must plan to study STEM related degree (Science,Technology,Engineering or Mathematics) at an accredited four-year college or university.   For definition of STEM degrees see page 7 of the QCESC Scholarship form.

School with highest overall score from the three events will receive:

Traveling trophy with school and year engraved and added.
Notes:
Teams are not required to

enter all 3 events and are not required to have the same team members or

team size for each event.

All teams are required to

pre-register for each event and provide a signed consent form.
Points from the three events are assigned as follows:
 1st place – 20 points       2nd place – 16 points   3rd place – 12 points
4th place – 10 points       5th place  –  9 points    6th place – 8 points
7th place – 7 points         8th place –   6 points    all other places – 3 points
 Each individual on the team will receive the points shown above for each event they participate in.   The tie breaker to determine the single, overall first place individual will be:
1st Criteria –

Grade (Senior/12th Grade highest, then Junior/11th grade, etc)

2nd Criteria –

Individual points from previous year's QC Tech Challenge

3rd Criteria –

Plans to attend and has been accepted into one of the colleges

supporting a STEM scholarship
Team Scoring: Traveling Trophy for the top school will be determined by adding the scores for the top two scores from the school from the three events.     
Past Results:
2020 QC Tech Challenge – not held because of COVID-19
2019 QC Tech Challenge Final Results with Photos
2018 QC Tech Challenge Final Results with Photos
2017 QC Tech Challenge Final Results with Photos