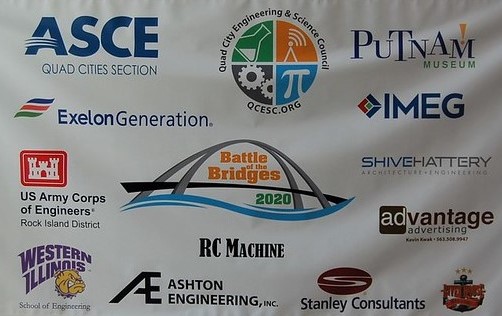 The 13th annual Battle of the Bridges competition was held on Friday, March 6 and Saturday, March 7, 2020 at the Putnam Museum and Science Center.  
The competition objective was to build a model bridge onsite with provided tools and materials within 3 hours with the greatest structural efficiency (supported weight/bridge weight).  Teams of up to four people competed with four categories for teams:  elementary (grades 4-6), middle school (grades 7-8), high school (grades 9-12), and family (any combination).  Link to 2020 rules including tools & materials.
Thanks to the 53 teams that competed between Friday and Saturday with an estimated 182 participants of all ages with many first timers!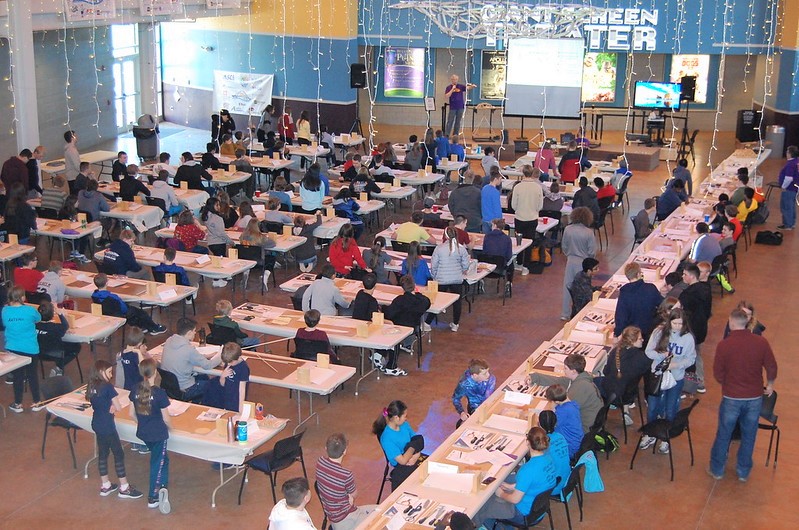 We could not do this without our 2020 volunteers, supporters, sponsors and not to mention the staff of The Putnam Museum & Science Center. Thank you to all who contributed, time, money, and some glue-stuck skin! We hope to see  everyone back again in 2021….
2020 Award winners with top three by team category were (with links to team pictures):
If you have any further questions, comments,  or want to be involved with the 2021 event, please send an e-mail to qcesc.org+BOB@Gmail.com.   
——————————————————————————————————————————–
Information From Previous Bridge Events:
2015 Results with Pictures
2014 Results with Pictures
2013 Results with Pictures
2012 Video (6:31)
2012 Results and Pictures
2011 Results and Pictures
2011 Video (5:09)
2010 Results and Pictures
Battle of the Bridge History:
In 2008, the Quad City Engineering and Science Council sponsored it's first bridge building contest as part of a series of workshops supporting the Da Vinci Exhibit at the Putnam Museum in Davenport.  Based on the success of the contest, this is now an annual event.