16th Annual Battle of the Bridge Contest
Friday & Saturday February 24th and 25th at the Putnam Museum
Streamed Virtual from the Putnam Museum
ALL AGES, with 2-4 people per team
Cost: $25.00 per team

The event is open to any students elementary school up, families, college students, and professionals. A team may consist of one to four people, where all team members must be signed up on the registration form.
OBJECTIVE: Build a model bridge using the prescribed tools and provided materials with the greatest structural efficiency.
SCHEDULE
Friday, February 24th:
Check-in/Setup: 11:30am – 12pm
Building: 12:15pm – 3:15pm
Load Testing: 2:15pm ~ 4:15pm
Awards Ceremony: ~4:15pm ~ 4:30pm
Saturday, February 25th:
Check-in/Setup: 8am – 8:30am
Building: 8:45am – 11:45am
Lunch Break: 11:45pm – 12:15pm
Load Testing: 10:45am ~ 1:15pm
Awards Ceremony: ~1:15pm ~ 1:30pm
Live-streamed (Load Testing and Awards):
Friday, February 24th: 2:15pm ~ 4:30pm (end of awards)
Saturday, February 25th: 10:45am ~ 1:30pm (end of awards)
6 CATEGORIES:
Professional/Societies (All adults ≥ 18 years old, for bragging rights only!)
Family (Any combination – kids, adults, seniors, up to one engineer)
Post-Secondary (Beyond Grades, back from 2015!)
High School (Grades 9-12)
Middle School (Grades 7-8)
Elementary School (Grades 4-6)
Highlights for 2023:
All team members must know their team name at registration
Registration deadline February 22nd
Details of the Live Stream options will be made available closer to the event.
Masking will be voluntary during the event
Bridge 101.ppt (link to video) (1)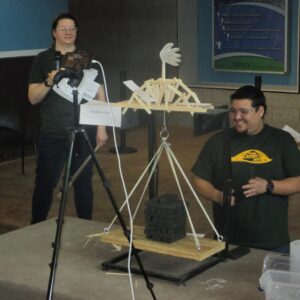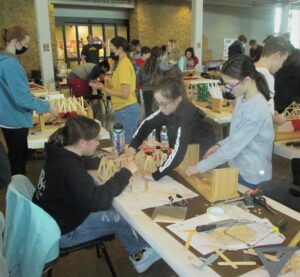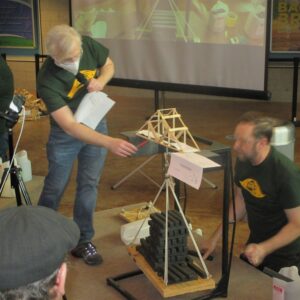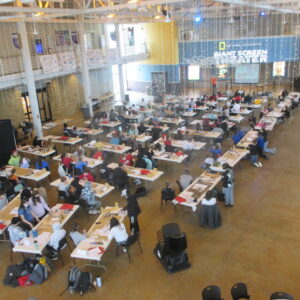 Pictures from previous years
---
Information From Previous Bridge Events:
2016 Results:
2015 Results with Pictures:
2014 Results with Pictures:
2013 Results with Pictures:
2012 Results and Pictures:
Battle of the Bridge History:
In 2008, the Quad City Engineering and Science Council sponsored it's first bridge building contest as part of a series of workshops supporting the Da Vinci Exhibit at the Putnam Museum in Davenport.  Based on the success of the contest, this is now an annual event.