Bruce Moore, Geneseo High School
$2,000 American Society of Civil Engineers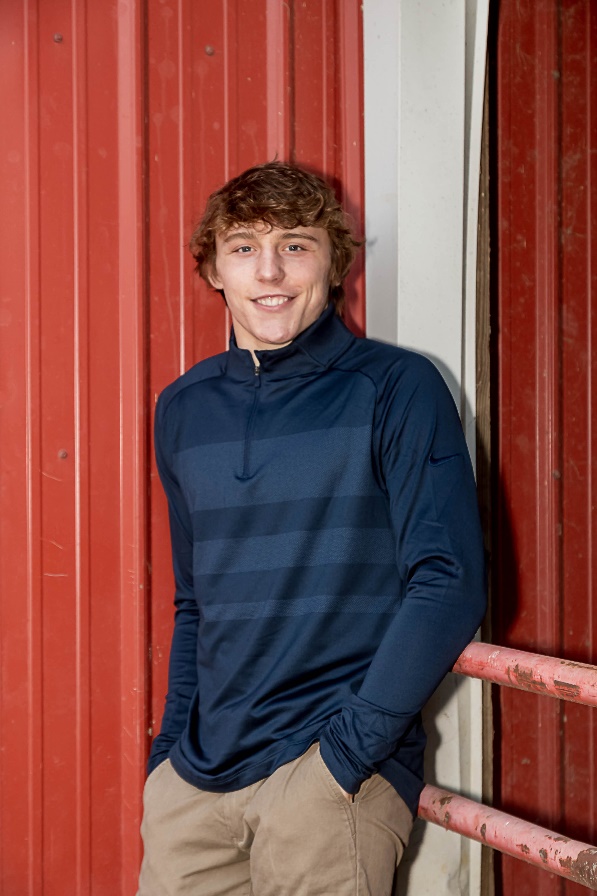 Bruce Moore is a senior at Geneseo High School where he has maintained top 10% class ranking every year with a 4.3 GPA. He is also a member of the National Honor Society. Bruce is highly involved in wrestling both through his high school team as well as club teams. This passion for wrestling has led him to two NIB12 All Conference awards as well as a couple recent 2nd and 3rd place finishes at national tournaments. Bruce also enjoys playing football for his high school team where he has been a varsity running back for 3 years. Besides wrestling and football, Bruce finds joy in doing activities around his house such as chainsaw carving, walking his two alpacas, and working on metal or wood projects. In his extra time he volunteers as a youth wrestling coach and at "Little Green Apple" pre school. Bruce is also involved in Fellowship of Christian Athletes, Link Crew, and Bass club.
Bruce plans to major in Civil Engineering. He is currently waiting to receive acceptance to Michigan, Illinois, and Purdue.
Aspirations: Bruce hopes to complete his education and go on to work for a Civil Engineering firm where he will design and oversee the production of commercial buildings. At some point in the future he would love to open his own firm.
Brady ONeil – Davenport West High School
$1,000 Iowa State University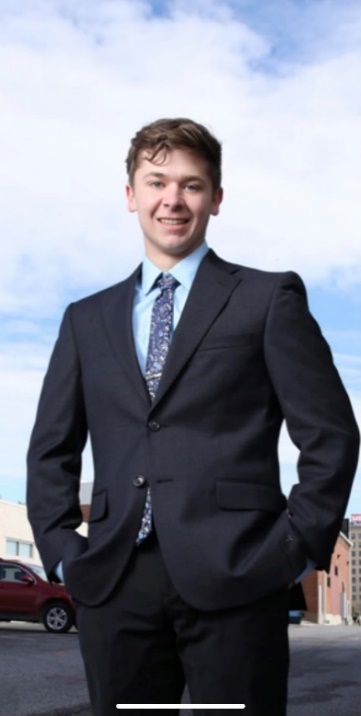 Brady ONeil is a senior at Davenport West High School. He has maintain a 3.9+ GPA and is in the top 5% if his graduating class. As a student he is involved in National Honor Society, he is the student ambassador of the engineering department, and lead project manager of the "Clean water for Kenya initiative".   Brady and his teacher traveled to Kenya in January 2020 to research first hand the needs of the client, and with the data collected the clean water solution will be implemented in Kenya soon.
Outside of academics, Brady has been  captain of the Quad City Blues Hockey team the last 4 years, he also received recognition every year for his sportsmanship and coaches award. Brady played High School Baseball his freshman year, and High School Golf his Junior and Senior year, and received his varsity letter.  In his spare time he has volunteered for One Goal – helping develop youth hockey, mobile food pantry, and noon optimist club setting flags.
Brady plans to major in engineering at Iowa State University beginning this fall.
Aspiration: Brady plans after obtaining his engineering degree to create and build ideas to make life easier for those in need in a cost-efficient way.
Caroline Adam, Alleman High School
$2,000 American Society of Civil Engineers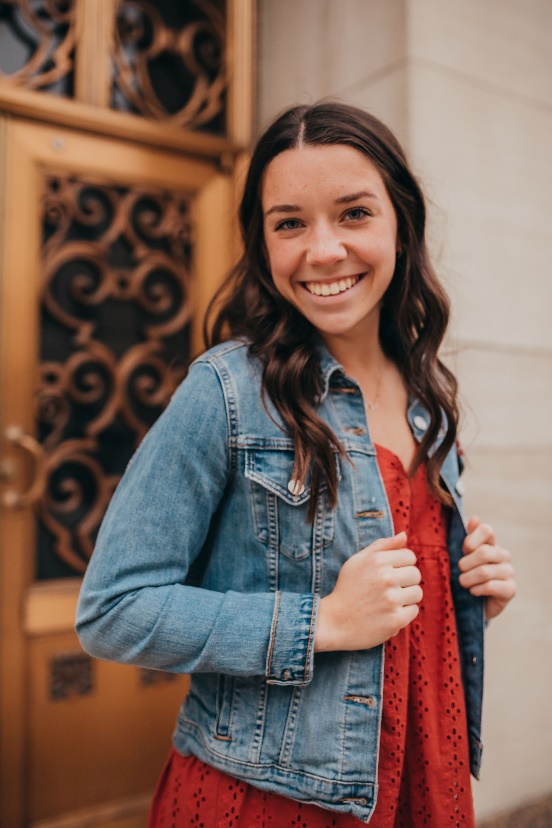 Caroline Adam is a senior at Alleman High School in Rock Island, Illinois. She is ranked number one in her class with a GPA of 4.82 and scored a 34 on the ACT.  Caroline has been a member of the Student Council for 4 years, and will end her senior year serving as Vice President. She also participates as a member of the varsity basketball, cross country and track teams where she served as a captain for all three athletic teams as a Junior and a Senior. She is an accomplished state qualifier in both athletics and academics including cross country, track, math, and engineering.  Caroline competed in the ICTM math competition and WYSE academic challenge each year for the past 4 years. She has also enjoyed volunteering at youth summer camps and has been co-captain and captain for Dance Marathon for the past 3 years and has helped to raise over $50,000 for the Iowa City Children's Hospital. Caroline has been nominated for the IHSA All- Academic team for her work in the classroom and her athletic achievements.
Next fall Caroline plans to attend the University of Michigan- Ann Arbor to major in Biomedical or Civil Engineering.
Aspirations: Caroline aspires to use her engineering degree to benefit the lives of others around her. She also hopes to inspire more young girls to go into the field of engineering.
Wyatt Sailer, Central DeWitt High School
$2,000 University of Iowa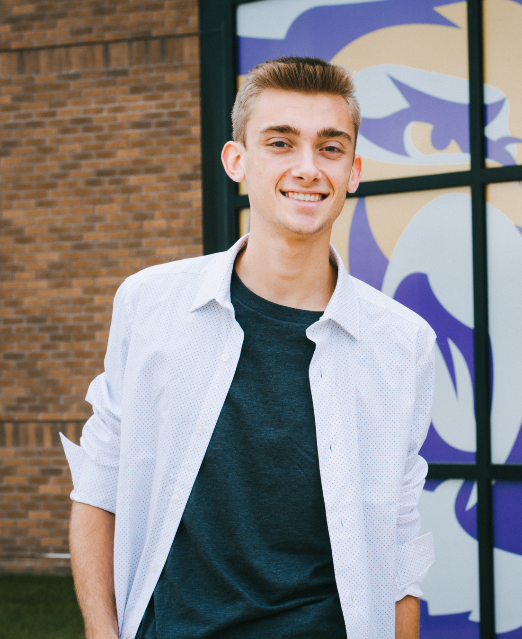 Wyatt Sailer is a senior at Central DeWitt High School with an unweighted 4.0 GPA and an ACT score of 33. He is in National Honor Society and was an active member of the school's robotics team, The Finger Puppet Mafia, from 2017-2019, who made it to the FTC World Championship in 2019. Through this, he helped mentor a local FLL team for a year. Furthermore, Wyatt has played alto sax in his school's band throughout both his middle school and high school years as well as a member of the jazz band both his junior and senior years. He has also participated in track, soccer, and cross country, in which he was the captain during his senior year.
Outside of school, Wyatt volunteers through his church and is a waiter at Mezcal, a Mexican Restaurant in DeWitt.
In the fall he will be attending the University of Iowa to pursue a major in Biomedical Engineering.
Aspiration: Wyatt wants to design and improve modern prosthetics along with develop artificial organs, and one day hopes to extend his impact beyond the United States.
Nathan Ottens, Sterling High School
$2,500 University of Wisconsin – Platteville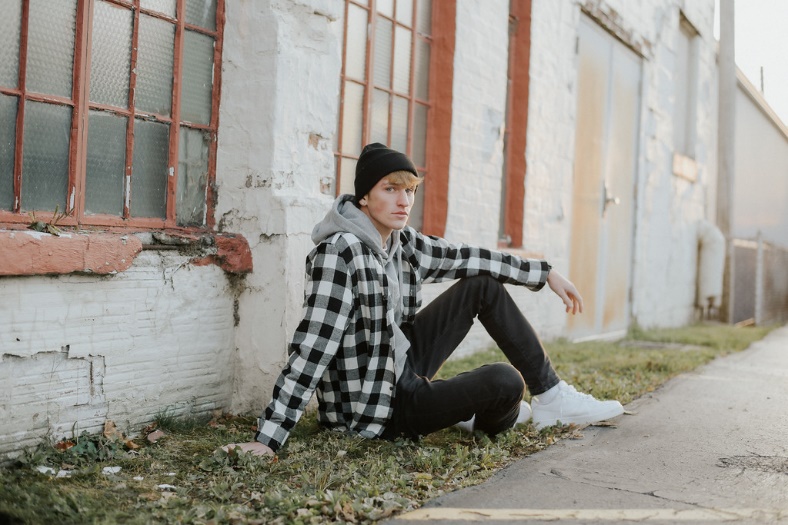 Nathan is a senior at Sterling High School with a GPA of 3.94. He is involved in many school activities such as National Honors Society, basketball, golf, and football. He is the captain of the boys golf and basketball team. During his time on the golf team he was awarded All Academic – All Conference. He was also given the Mark House 3D award for showing dedication, determination, and drive. Throughout high school Nathan has taken many AP classes in math and science and gives them credit for his passion in STEM. He plans on attending the University of Wisconsin -Platteville.
Aspiration: Nathan wants to use his degree to become a petroleum engineer and use his skills to develop technology that would make it cheaper and more economically friendly.
Nicole Artemyev Moline High School
$2,500 Quad City Engineering and Science Council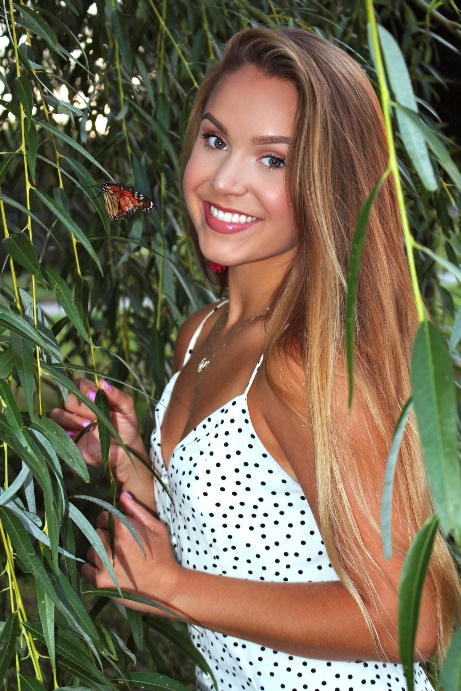 Nicole Artemyev is a senior at Moline Highschool. Ranked third in her class and titled as the Salutatorian, Nicole holds a GPA of 4.933. In 2020, Artemyev was awarded the AP Scholar Award for her earnings of college credit in various AP courses. Nicole is a member of the National Honor Society and serves as the Chairperson of the Homecoming Committee and Share Joys Committee. Additionally, Nicole is the class president in Student Congress, the vice president of Interact Club, and the secretary of Chick fil A Leadership Academy and History Club. As a driven and active student, Artemyev also has been a varsity dancer for three years on Contemporaries and runs varsity track and field. Outside of school, Nicole participates in Civil Air Patrol, Young Life, works as a barista at Awake Coffee Company, and helps volunteer throughout her community. In her free time, she loves to work out, listen to music, paint, travel, and hang out with friends and family.
Aspiration: Nicole Artemyev is greatly fascinated in aviation and plans to pursue a career in the field of aerospace engineering. With a degree in engineering, Artemyev is determined to advance the future's technology with creative, new ideas. She dreams to work for organizations such as SpaceX, Boeing, and NASA.
Natalie Nelson, Galesburg High School
$2,500 National Defense Industrial Association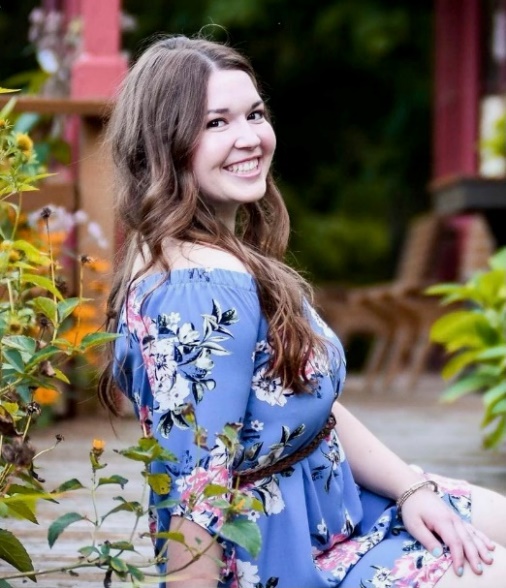 is a senior at Galesburg High School. She is ranked first in her class with a 4.196 GPA. Natalie is an AP Scholar with Honors and a member of both National Honor Society and Spanish National Honor Society. She has also received the Illinois State Commendation toward Biliteracy in Spanish, the Principal's Scholar Award, and is a six-time Science Student of the Month. Over the course of her high-school career, Natalie has been involved in Project Graduation, Interact, CARE, Theater, Foreign Language Club, and Fellowship of Christian Athletes. She is currently captain of her dance team, the GHS Gadets, and she serves on the executive board of Student Council as secretary. Outside of school, she is involved in 4-H and The Performing Arts Academy of Galesburg, as well as being employed as a non-certified Pharmacy Technician. Natalie has also served her community as a volunteer for Habitat for Humanity, the United Way of Knox County, and Knox County Teen Court. This fall, Natalie plans to attend a four-year university to study Biochemistry on a pre-med track.
Aspirations: Natalie hopes to expand on her passion of helping others by creating innovative ways to provide best practice and being involved in medical research.
Aditi Nachnani, Pleasant Valley High School
$2,500 Jeffrey Richland Memorial Scholarship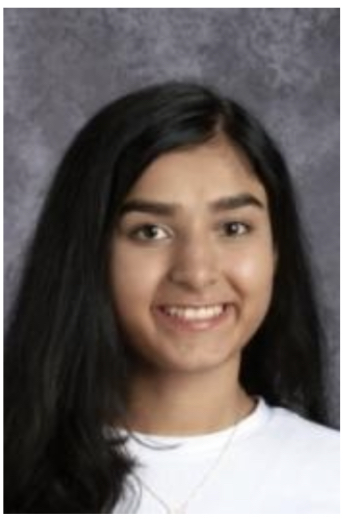 Aditi Nachnani is a senior at Pleasant Valley High school with a cumulative GPA of 4.3. She has taken numerous AP and honors courses, and currently is dual enrolled at Scott Community College. She is a Team Captain and a designer of her FIRST Tech Challenge Robotics Team, which she has been a part of for 6 years. She is a member of the National Honors of Society and was chosen as a Dean's List Semifinalist by her robotics team.  She is also a coach for a FIRST Lego League team consisting of 10 kids. She is passionate about community service and has attained over 500 volunteer hours from volunteering at robotics camps, summer school, Family Museum, and more. This fall, Aditi plans to attend a four-year university to pursue a degree in Computer Science.
Aspirations: Aditi hopes to create various machines beyond human expertise to combat global struggles and assist those in need of aid.
Aidan Goerdt, Bettendorf High School
$2000 – Exelon Corporation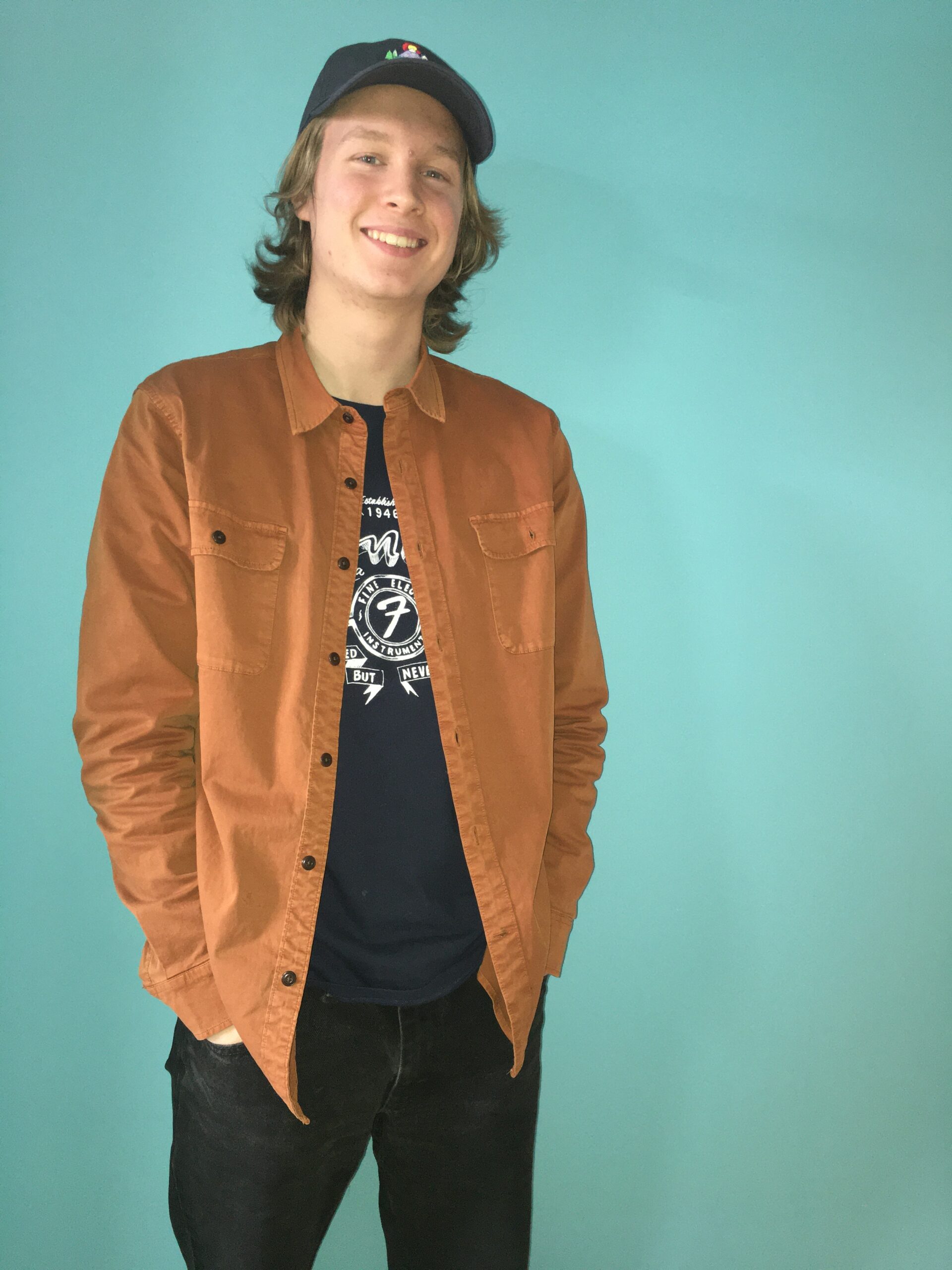 Aidan Goerdt is a senior at Bettendorf High School who is involved in many activities such as Jazz Band, Orchestra, Musical Pit, Student Council, and State Student Council. He loves meeting new people and has had a passion for engineering since a young age. Aidan also has worked at the local Davenport Chic-Fil-A location and loves serving and helping others in an efficient and effective way. After being featured in The PITSCO Network in middle school for his work with robotics and engineering, Aidan has since fine-tuned his skills and knowledge in school. After taking 5 AP Classes and achieving a composite score of 33 on the ACT, Aidan is excited to start the next chapter of his education pursuing a degree in Engineering. Aidan's ultimate goal is to move the field of Nuclear Fusion forward by working at research facilities or a reactor itself, he plans to complete this goal through maintaining high honor roll and independent research studies while in college. Aidan wants to thank his parents and friends for always encouraging his curiosity and the Exelon Corporation or supporting his further education.
Aspiration: Aidan plans to attend a four-year university and pursue a degree in engineering to further the research and production of Nuclear Fusion.
Isaac Blandin, Central DeWitt High School
$2,500 Quad City Engineering and Science Council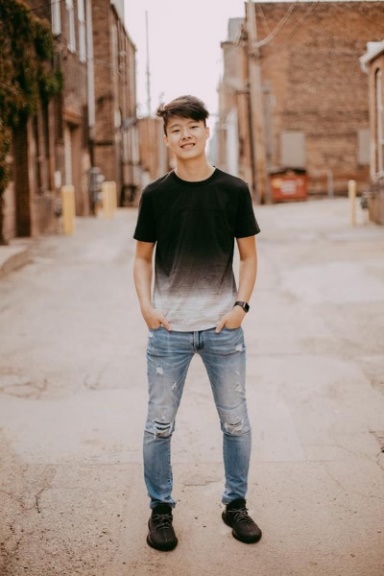 Isaac Blandin is a senior at Central DeWitt High School with a GPA of 4.0 and an ACT test score of 34.  Recently, he was named a National Merit Scholarship Commended Student.  He is the captain of his school's FTC Robotics team, the Finger Puppet Mafia, which was a world championship qualifier in 2018.  He has taken multiple AP, honors, and college dual enrollment courses through his four years in high school.  He is the president of his 4-H club, the Welton Jr. Farmers for the third year in a row.  He is a member of National Honor Society and National Art Honor Society.  He has received recognition through awards for artwork in national and state level competitions.
Following graduation, Isaac plans on pursuing a computer hardware engineering degree from Iowa State University.
Aspiration: Isaac hopes to enter into the STEM field with a degree in computer engineering to help further advance and automate processes in order to make people's lives easier and stress-free.
Dylan Klingler, Abingdon-Avon High School
$1,000 Quad City Engineering and Science Council Community College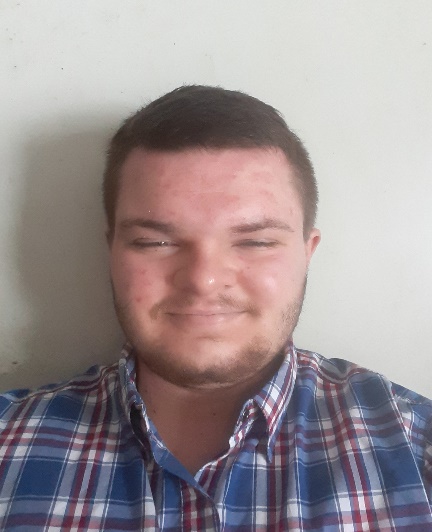 Dylan Klingler is a senior at Abingdon-Avon High School with a 4.04 weighted GPA. He is a four-year high honors student. He is in the second year of a Galesburg Area Vocational Center CNC Machining course and made the Dean's List for part-time students in the Carl Sandburg College sponsored class. Dylan plays soccer for his school's Varsity team and was honored with the role of team captain in his junior year. Dylan participates in the Academic Challenge sponsored by Northern Illinois University and took part in the former WYSE (Worldwide Youth in Science and Engineering) testing.
Dylan will be attending Parkland College in fall of 2021 to pursue studies in Precision Agriculture Technology and take part in an internship with Birkey's Farm Store and Case New Holland.
Aspiration: Dylan hopes to be a diesel ag technician helping keep local farmers in their fields and thus, food on families' tables.
Katie Anderson, Assumption High School
$2,000 Society of American Military Engineers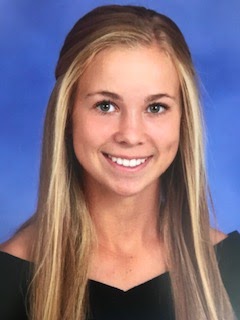 Katie Anderson is a senior at Assumption High School and has maintained a 4.0 GPA while simultaneously cha llenging herself with multiple AP and college courses.  She is also duly enrolled at Scott Community College and has received exceptional academic honors as a member of the Dean's List.  Throughout her four years of high school, Katie has participated in softball, basketball, volleyball, student ambassadors, Fellowship of Christian Athletes, and National Honor Society. She has made eight state appearances in her athletic activities and has been a member of three state championship teams.  Katie was also elected the National Honor Society Recording Secretary for the 2020-2021 school year, as she has exhibited a strong sense of leadership and scholastic achievement.  She plans to attend a four year university next fall where she will pursue a degree in aerospace engineering with a minor in Spanish.
Aspiration: Katie hopes to work for an aircraft company where she can complete challenging work to contribute to technological and aircraft advancement.  She also dreams of traveling to third world countries to share her knowledge and help improve quality of life.
Chance Thrasher, West Liberty High School
$1,000 American Society of Agricultural and Biological Engineers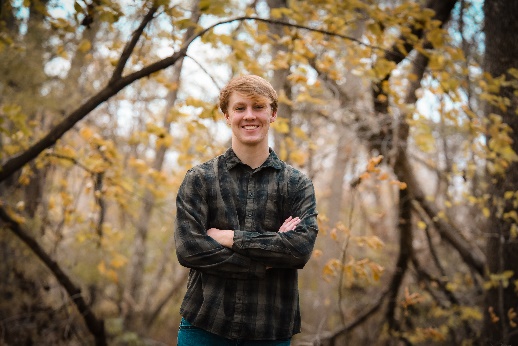 Chance Thrasher is a senior at West Liberty High School with a GPA of 4.02 GPA. This past year he has also been enrolled in the Advanced Manufacturing program at Muscatine Community College and on the Dean's List. Throughout high school he has been involved in many activities, such as baseball, basketball, football, FFA, NHS, Big Buddies and the local Community Youth Group. In each varsity athletics over the past year, he was named captain of the team. While also being elected President of the FFA chapter the past two years.
Chance also has a lengthy history of work experience, as he has built his own business, C & C Services, which was created in early 2015. Since then, the company has grown to have over 40 customers in and around the West Liberty area. It provides a variety of services from mowing to landscaping to tree trimming. Additional work placements have been at Paul Revere's Pizza where he is the current assistant manager, and Hy-Vee, as he works as a night stocker.
Through his activities, he has completed numerous community service projects. Most recently, he has piloted a program that assists disabled and handicap families with lawn care. As of now there have been 5 families in the program with the hope of expansion the coming year.
Aspirations: Chance plans to attend Iowa State University to study mechanical engineering. After graduating, he will look to find employment with an agricultural company working on the newest equipment that will help feed the world.
Jonathan Schwank, Sterling High School
$1,000 Morrison Tech
Jonathan (Jonny) Schwank is a Senior at Sterling High School, holding a cumulative weighted GPA of 4.25, helped along by his commitment to various AP classes. He has contributed for three years as a significant part of the SHS Robotics Team, which participates in the First Robotics Competition (FRC). Outside of school Jonny works part time at Jakobs Brothers Farms in Sterling, and enjoys several hobbies including mountain biking, designing remote controlled planes, and generally being outdoors with his family.
He has been accepted into Morrison Institute of Technology where he hopes to complete a 2-year degree in civil-engineering with the possibility to transferring to a bigger university to complete a 4-year degree in the same field.
Aspiration-Jonny hopes to become an inspector/surveyor and or manager for large civil construction projects such as roads and bridges, where he can combine his love for the outdoors with a commitment to improve public infrastructure.