Updated 9Sep19 (check back for updates prior to the event)
Keynotes will be: Danielle Alvarez, I74 Bridge Project Manager, Neil Dahlstrom, John Deere Manager of Corp. Archives & History on John Deere World Headquarters Building, and Trishna Pradhan, City of Davenport's Chief Building Official & Architect providing overview on Architecture and highlighting the importance of City Planning & the Relationship of the Built Environment to its surroundings.
FIRST leadership expected to attend include: Kim Wierman, FLL & FLL Jr Director, Erica Fessia, VP Of Field Operations, and Erica Perez, Corp & Foundations Relations Manager.
Quad City area FIRST LEGO League teams from Iowa & Illinois including students, coaches and mentors are cordially invited to attend the FREE, 7th Annual FIRST LEGO League Kickoff. Please note there is also a parallel, FIRST LEGO League Junior Kickoff. Here is a link with further info.
The Kickoff provides a fun, interactive way to meet other teams, learn together and share key FIRST LEGO League information. This includes opportunities to talk with Innovation Project Challenge experts about buildings and public spaces in your community. In addition, you can learn from experienced FIRST LEGO League judges and referees about the new CITY SHAPER field setup. Several returning FIRST LEGO League teams will be on hand to share their State Championship and/or FIRST World Championship experiences.
The event will be hosted at the John Deere World Headquarters in Moline, Illinois which also hosts the annual Quad Cities – Moline FIRST LEGO League Green & Yellow qualifiers & FIRST Tech Challenge Kickoff, and a summer FIRST LEGO League Junior Expo. As a new global sponsor for FIRST LEGO League for the 2019 – 2020 CITY SHAPER season, John Deere is excited to host the Kickoff!
To help ensure we have adequate space and materials, all FIRST LEGO League teams (students, coaches, mentors and parents), event volunteers, and people supporting Kickoff displays must pre-register and provide signed consent forms when checking in as outlined below.
Event Date & Time:
Saturday, September 14, 2019
8:30 AM – 12:45 PM (see detailed schedule below)
Location:
John Deere World Headquarters
One John Deere Place
Moline, Illinois
Link to map with information on parking
---
Links to sign-up to attend as a team, volunteer or have a display – which are all FREE:
Consent & Release Forms:
A signed QCESC consent form must be provided at check in for all attendees. This includes teams (students, coaches, and mentors) along with event professionals, volunteers and speakers. For students who are minors (less than 18 years old), the consent form must be signed by one of their parent or guardians.
Link to a blank QCESC consent form which will also be available at the check-in table.
---
While we encourage teams to attend the entire event, you may attend whatever portion your schedule allows. A recommended strategy is to have your team divide up so you can attend each of the breakout sessions. The 8:30 AM Opening is highly recommended for all teams.
As part of the opening session, we will:
Introduce Each Team in Attendance,
Discuss Key Resources Available to Teams
Provide Keynote Speaker(s) On CITY SHAPER Innovation Project Challenge
Review FIRST LEGO League Qualifier Registration Process for Iowa & Illinois teams
Overall Schedule (subject to updates):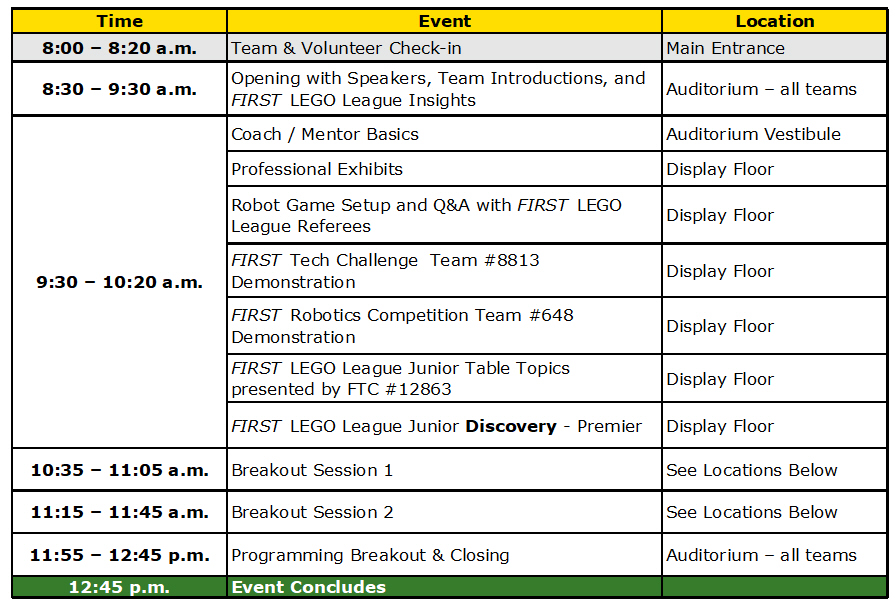 A recommended strategy is to have your team divide up so you can attend all of the breakout sessions.
---
Breakout Session Presenters:
Innovation Project: Insights on the research project including what to expect during your innovation project judging interview
Lead: PolkaBots, Team #31322 (Moline) 2019 Project 1st Place – Illinois State Championship
Core Values: Insights on core values including what to expect during your core values judging interview.
Lead: Flourish & Bots Navy Team #2828 (Bettendorf) 2019 State of Iowa Championship 2nd Place Overall Core Values Award
EV3 Programming: Hands-on overview of LEGO Mindstorms EV3 programming Lead: Aaron Maurer, Experienced FIRST LEGO League Coach, LEGO Education Master, Microsoft Innovative Expert, PBS Digital All-Star, Minecraft Global Mentor
Strategy, Locomotion, Navigation: Insights on strategy, locomotion and navigation including on robot design judging interviews. Lead: eagles Eagles, EAGLES BOOM Team #22,482 (Muscatine) 2019 State of Iowa Championship 2nd place Project Innovation Solution & QC Robot Performance & GIA Nominee

​
---
FIRST Progression of Program Displays:
FIRST LEGO League Junior demo:
FTC Team #12863 Flourish & Bots ,
2015 Iowa State FIRST LEGO League Champion & World Championship Qualifier more details

FIRST LEGO League:
CITY SHAPER 2019 – 2020 Game challenge setup with referees to help answer questions
---
Registered Teams So far:
2019 Quad Cities FIRST LEGO League Kickoff Planning Team:
Pat Barnes
Rod Brown
Dan Dalessandro
Sarah Eckert
Susan Eckert
Terri Smith
Sanchia Horst Sommer
Beth Ullmark
Key FLL Links