The 13th Trebuchet Egg Throw Contest was held on Friday, April 22, 2022 with the following results:
1st Place –

Fling Kings

– Pleasant Valley High School

Tobias Hindman, Bala Shukla, Akash Krishnakumar, Asvantth Paranidharan

2nd Place –

Team Powerlifters

– North Scott High School

Dawson Rheingans, Nolan Engelbrecht, Caden Noel

3rd Place –

The Eggs-plorers

– Bettendorf High School

Alex Driever, Braden Like, Daniel Blankenfield

Longest Throw (243′) –

Fling Kings

Innovation Award –

Deez Eggs

– Bettendorf High School

Tim Foster, Conner Giesen, Gage Menke, Henry Ploehn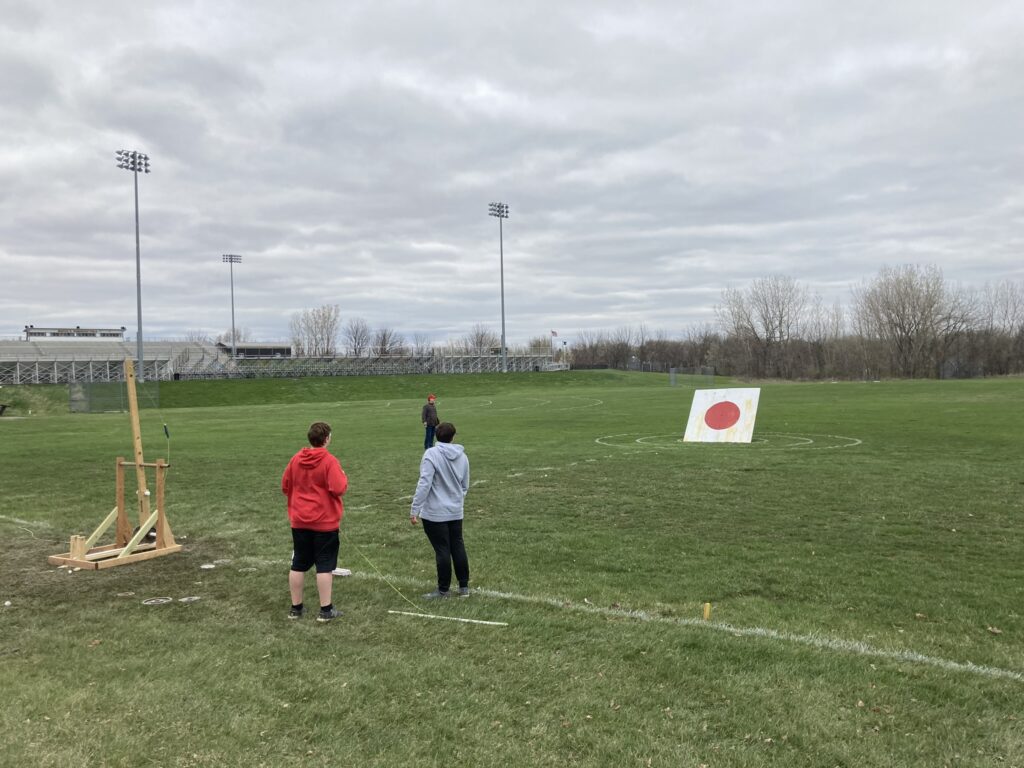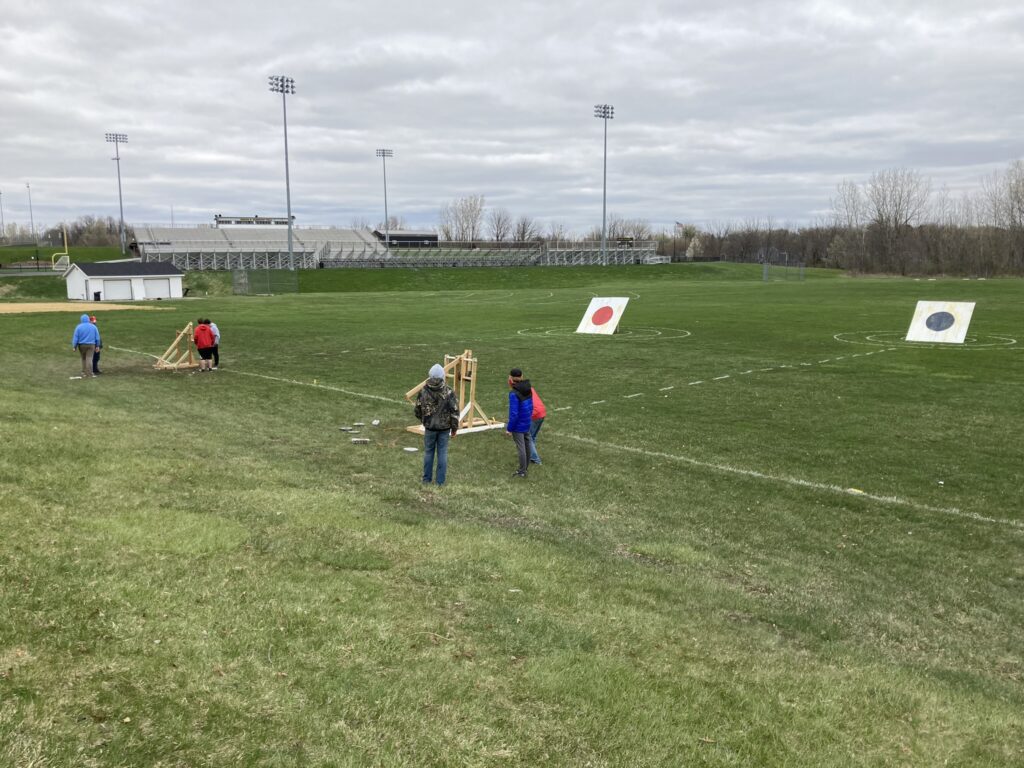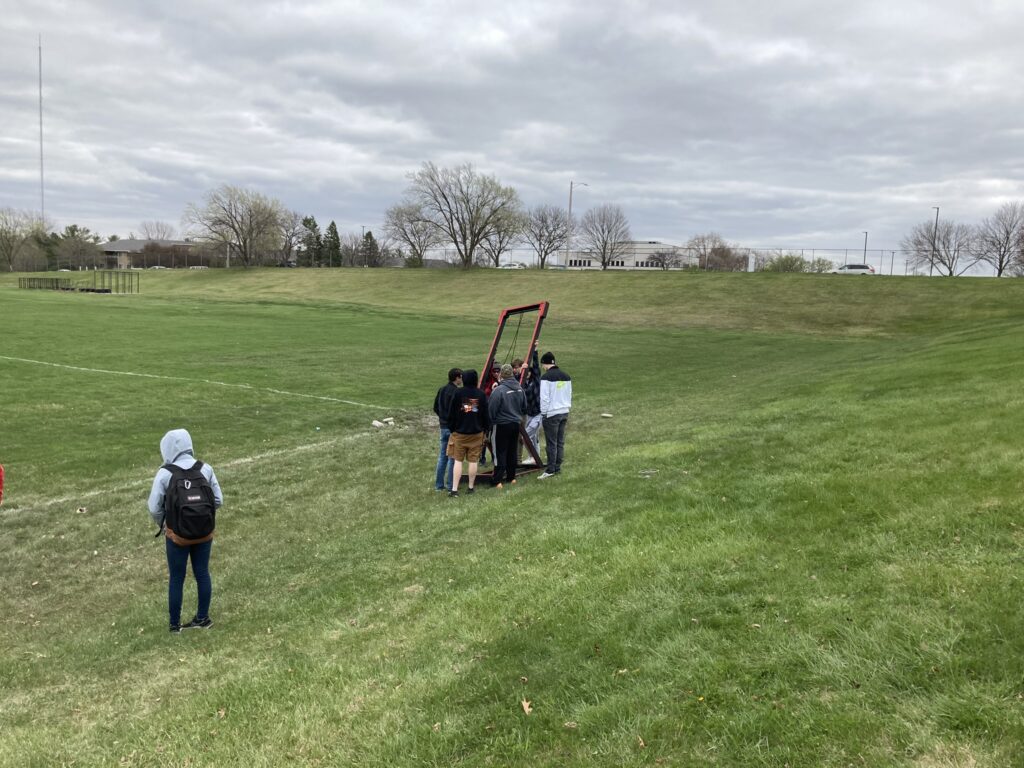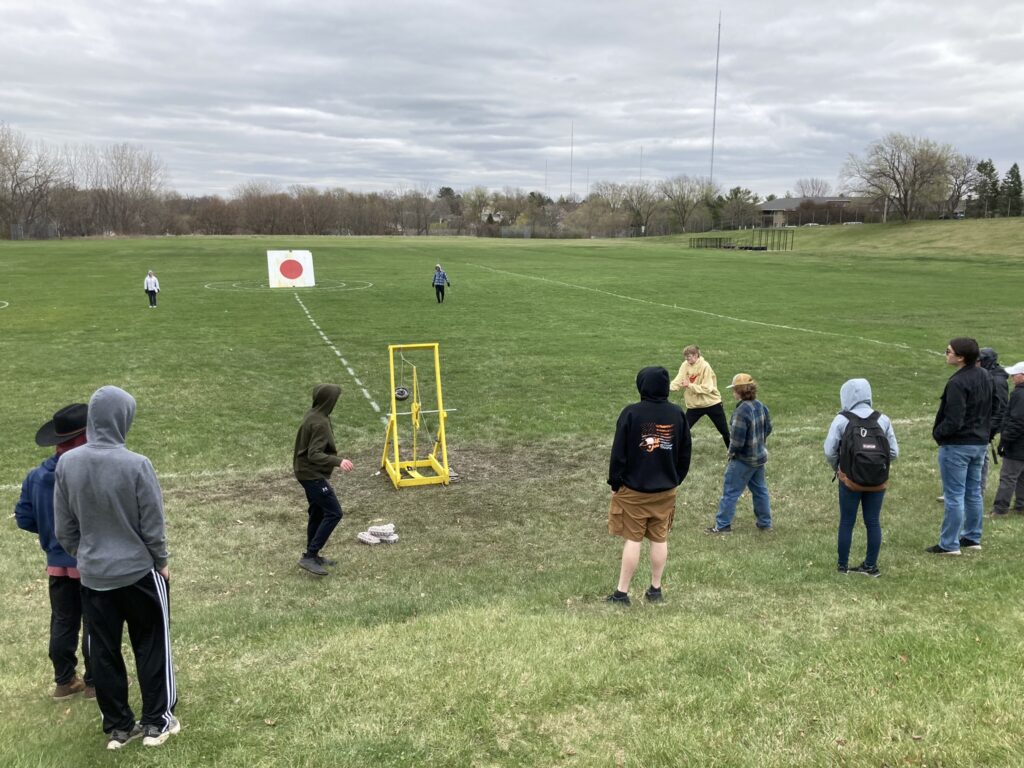 Information About the Trebuchet Egg Throw Competition
For teachers, if you are new to the event and want to learn more, please view this new video created by David Linnenbrink, North Scott High School Engineering / Industrial Tech Teacher. He shares some great insights including on how he tied it to their curriculum and what the students learn by participating.

This competition is the 2nd event in the QC Tech Challenge. High school and college teams and individuals receive points from each of the 3 QC Tech Challenge events (Battle of Bridges Contest, Trebuchet Egg Throw Contest, and Cardboard Boat Regatta Race). For high schools, a traveling trophy is provided to the top scoring high school and an award to the top scoring individual along with a $1,000 scholarship.
Teams: Teams will consist of a minimum of three students (recommend no more than eight) and one advisor. An advisor may be a teacher, principal, parent, or guardian or anyone designated by the school that is an adult and willing to take on the challenge and responsibility.
Event Overview: Teams design & build trebuchets to launch raw eggs at targets at three, specified distances 75, 100, and 125 feet. Each team will get four shots at each distance with the two best shots counted for scoring along with the points from the longest throw. The field competition portion will count for 70 of the total 110 possible event points.
Link to trebuchet rules & guidelines (updated 3/23/17)
Additional points will be awarded based on the performance for two throws for the longest distance as follows:
* 10 points for 160'+
* 9 points for 150'+
* 8 points for 140'+
* 7 points for 130'+
* 6 points for 120'+
* 5 points for 110'+
* 4 points for 100'+
* 3 points for 90'+
* 2 points for 80'+
* 1 point for 70'+
In addition to the trebuchet, a presentation worth up to 40 points is given by each team to local engineers & STEM professionals from the QCESC.
Awards:
Top 3 teams based on total score will receive one picture trophy per team and individual medals for each team member.
Team with longest throw will receive one picture trophy
Team with most innovative design as judged by the QCESC will receive one trophy.
Schedule:
Teams will be notified of actual schedule and the schedule will be posted on this page in advance.
The start and ending time will depend on how many teams participate in the event. Typically the event starts with inspections around 8:00 AM and the event wraps up with awards around 4:30 PM.
Coaches will be responsible for placing their teams in the appropriate slots. A team will have 30 minutes to move their trebuchet to the launch area, throw their eggs, and clear the area. Failure to comply with the time regulations will result in penalties as described in the rules. Please arrive at least 30 minutes before your scheduled time to have your trebuchet inspected to confirm meets rules including for safety give presentation to the judges, and then throws.
The presentation will be given before throwing eggs. It will not be done as part of the 30-minute time limit. Engineers & STEM Professionals from the area will be watching your presentation and scoring it. They will have questions, so be prepared.
Waiver and Release Form:
Link to One Page Release and Waiver Form Required for All Participants (bring to competition)
Event All Time Records:
Longest Throw of 286.5′ in 2014 by Four Kings (AAT) from Pleasant Valley High School (Abhi Gurram, Tyler Oberman, and Arvin Sundaramraj) – Previous record 275.5′ set by Falmer Mode in 2013 from Bettendorf High School (Luke Manwiller & Mitch Parker)

Total Number of Students Participating. 37 teams with 124 students from 5 area high schools in 2017.
For further information or questions, please email stem@qcesc.org.
Links to Pictures from Past Events: